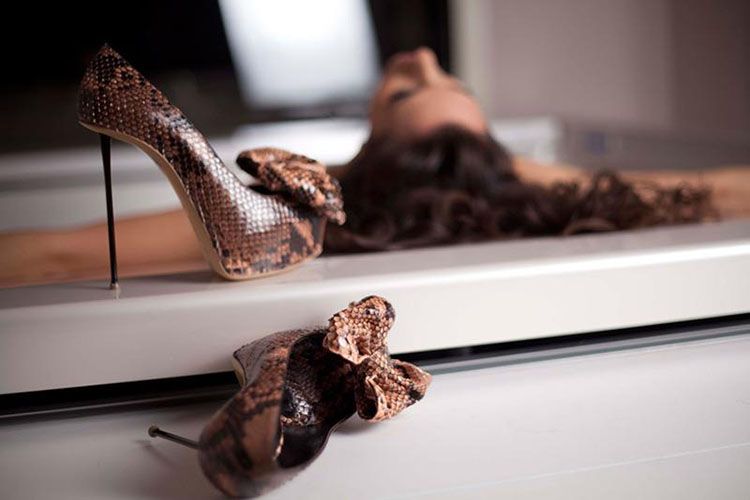 Photo Courtesy of Gianmarco Lorenzi
Marilyn Monroe had once said, "Give a girl the right shoes, and she can conquer the world."
It seems Marilyn wasn't alone in her undying admiration for a fabulous pair of designer shoes.
As luxury shoe designers continue to create opulent footwear, the price of designer shoes continues to rise. Here's a quick look at a few of the high-priced shoes featured in our
Most Expensive Shoes
Photo Roundup.
The House of Gucci has long been known as a brand of fine Italian craftsmanship. In an effort to showcase the brand's rich heritage and skilled craftsmanship, The Gucci Artisan Corner was established in 2009. The skilled Gucci artisans showcase their talent at high-end retail events around the world, presenting the intricate process involved in the production and design of its signature leather goods.
Any well-heeled lady would agree that when it comes to shoe therapy, nothing quite compares to the feeling of slipping on a shiny red-lacquered sole. French shoe designer Christian Louboutin stepped onto the scene in 1991 with the opening of his first Parisian boutique. That quaint little shop located along Rue Jean-Jacques has since evolved into a global luxury brand, with a signature style that has proven iconic in the world of fashion.
Although the brand may not be quite as well known as Gucci or Christian Loubouitin, Gianmarco Lorenzi designer shoes are just as stunning. The Italian luxury shoe designer creates opulent well-crafted designs based off of current luxury trend research. Gianmarco Lorenzi shoes present the perfect balance of femininity, sensuality, luxury and fashion.