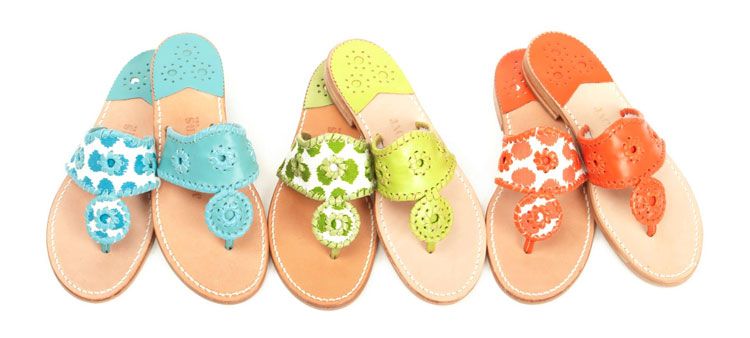 Photo Courtesy of Jack Rogers
You've probably seen Jack Rogers on the streets for years now. The luxury women's shoes made their historical debut when Jackie Kennedy wore a pair to St. Edward's Church in Palm Beach on Good Friday in 1962. The upper straps of the sandals are easily identifiable, with woven leather-on-leather detail and a multitude of colors to choose from.
I'll bet that, like me, you're used to seeing the same classic Navajo-style flat sandal around. Though the Navajos are timeless, versatile, and can be paired with any outfit, you may not have known about the endless other Jack Rogers styles that are great for summer. In the brand's new Dakota Summer 2012 Collection, we see a plethora of sandals in different colors, styles, heel heights, and silhouettes.
The Barcelona Platform features a cork bottom and a colorful, braided upper strap across the toes. At $188, they come in three different colors: multi metallic, orange/pink macramé, and multi macramé. Each of these color schemes appropriately represents different elements of summertime, so take your pick for which one will match your mood. With a three inch wedge on top of a one inch platform, these sandals are casually fun but chic at the same time.
I also love the Santa Fe Sandal, whose rondelles and stitching that mimic the Navajo's, making them noticeably Jack Rogers. This sandal has a ¾ inch heel with added hidden footbed comfort. The classic leather rondelles make their way over the upper arch of your foot like usual, but unlike the thong style of the Navajos, the Santa Fe features an individual slot for your big toe that will ensure the sandal will stay on comfortably. At $158, your options are endless with an abundance of colors to choose from.
The Capri Platform ($178) is another style that resembles the classic Navajo style in a new shape and silhouette. This shoe is made with woven calf leather on a suede or leather footbed that sits over a stained-wood platform. The upper leather strap of the shoe features Jack Rogers stitching and patterns, while the wood platform has an etched design of its own.
To view the full collection, visit JackRogersUSA.com.