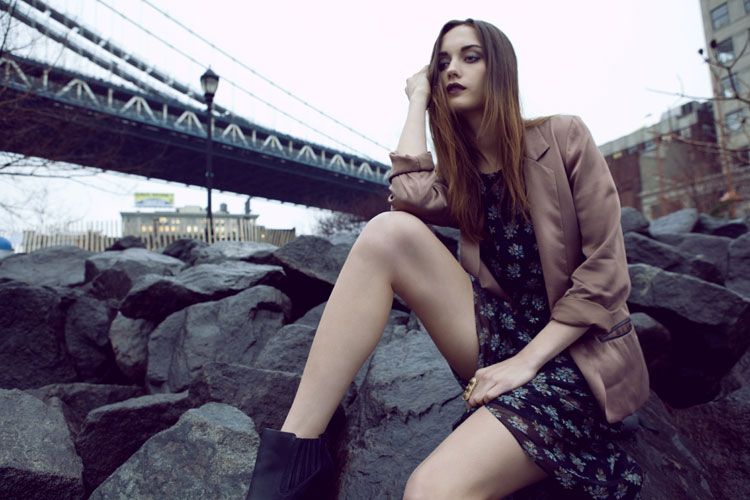 Photo Courtesy of Rae Francis
Channel your inner Kurt Cobain with the new collection of ?90s grunge rock-inspired fashion by
luxury brand
Rae Francis. Based in New York, the contemporary women?s wear line focuses mostly on contrasting several different elements to build on its signature look for the girl with a toughened urban edge. The collection, which is sophisticated with a rugged touch, is versatile for casual or semi-formal occasions, with pieces that have the ability to be dressed up or down for autumn.
Take equal parts Ariel Lilly and equal parts Christina Coniglio, shake thoroughly, and you?ve got Rae Francis: the luxury label that blends two friends? styles to make a great mix of women?s wear. The two designer friends met at The Savannah College of Art Design while studying fashion, then moved separately to New York City to gain experience that would eventually contribute to their success as fashion front-runners— the girls experimented in public relations, sales, production, and high end design. When they?d gained the experience needed in all aspects of the industry, the friends reconnected to combine their creativity and know-how, and Rae Francis was born ? a true representation of teamwork.
The line's pieces are meant to be mixed and matched in the same way that the brand is a blend of the designers' different aesthetics. The label's autumn collection ranges from $127 to $453 and specifically blends delicate fabrics such as silk and chiffon with those that have a tougher look, like leathers and plaids. Tailored pieces are combined with unstructured shapes, and masculine touches are given to polished feminine looks to create the understated, effortlessly sexy look that Rae Francis is known for.
One piece from its autumn collection that the brand is particularly proud of is an updated version of its signature shirt dress. For the colder months, this Rae Francis staple piece is given a beautiful silk charmeuse fabric with chic cutout sleeves and is set to be a closet staple next to your LBD, best-fitting jeans, classic blazer, and favorite heels.
To view the full collection, visit
RaeFrancis.com
.