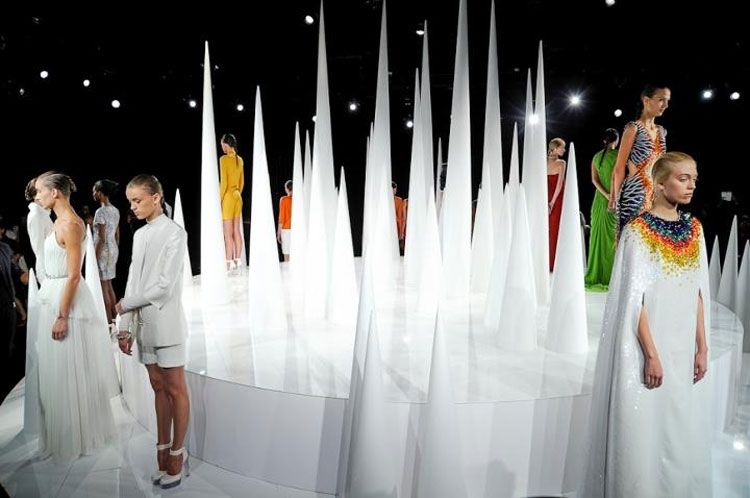 Photo Courtesy of Mathieu Mirano
If ever there were a young, up-and-coming
luxury designer
to watch, itís Mathieu Mirano. The Manhattan native is a mere 21 years old ó but donít let that steer you away. With already two collections under his belt, his latest is inspired by dinosaurs, but the designs are anything but immature. His use of fossil fabrics combined with intricate detail resulted in a show of the utmost sophistication. Spectators were even left in awe of the luxe look the designer was able to produce with one bizarre material. One thingís for sure: weíre not the only ones who think Mirano is a superstaró the young designer just debuted his collection for Spring 2013 alongside the most famous American designers at New York Fashion Week.
Miranoís eveningwear was the star of his show, with exquisite gowns and floor-length capes that popped against an all-white stage. A green chiffon gown pushed the envelope with its vibrant hue, full torso zipper, and methodical ruching, while sequins in a rainbow palette added a luxurious element to a sheer white organza gown. A navy stunner in the same material referenced the designerís overall theme with a giant prehistoric creature splayed across the front. But what really had the audience talking was Miranoís use of actual beetle wings to create the bodice of a strapless chiffon number. While unthinkable to some, the texture of the insect wings created a feathery look. The delicate material nonetheless proves Miranoís mastery, and at the very least gained him well-deserved attention.
The daywear portion of Miranoís collection deserves a mention, as well. Sharply-tailored leather jackets and svelte separates in rich hues of white, orange, yellow, and navy stood out against the icy backdrop. The shapes found in this collection set it apart from the rest ó in a good way. The silhouettes that Mirano was able to create made for mouth-watering eye candy for us viewers. Pleated shorts paired with strong-shouldered jackets make for a look that is appropriate for work, play, and everything in-between. But our personal favorite look was achieved with navy Mikado trousers and a navy leather t-shirt topped with a chevron hem coat in the same hue, making for utter enchantment.
To view the full collection, visit
MathieuMirano.com
.