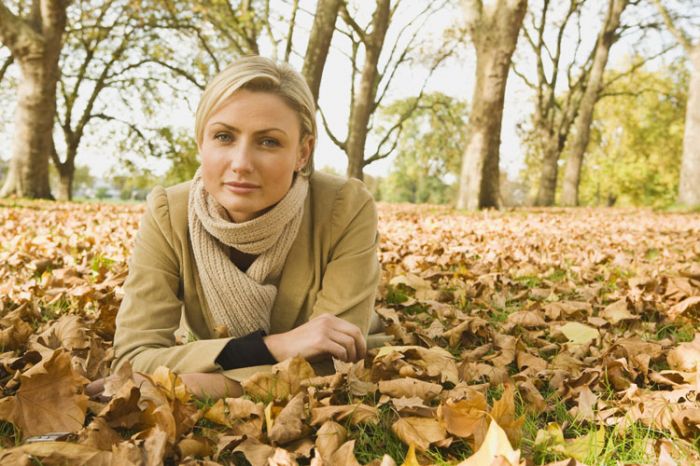 Photo Courtesy of Jupiterimages/Polka Dot/Thinkstock
Itís November 1st, and if your closet is still stuck in summer mode, itís time to start finally accepting that the colder weather is falling upon us. But luckily, the change of seasons doesnít mean you have to completely overhaul your
luxury fashion
wardrobe. There are easy ways to slowly incorporate fall or winter items into your endless summer look to make an easy transition.
Do you cringe at the thought of packing away your favorite sundresses until next summer? Good news: you can keep your colorful printed frocks around another couple monthsó just add a pair of tights to the mix and youíre golden for adorable fall fashion. The options here are endless, but we suggest playing with fun autumn colors like gold, plum and royal to spice up an outdated summer look. Other ideas are printed or textured tights, like polka dots or lace. Just remember to keep it classy and fun at the same timeó while you do want to update your summer look, be mindful of mixing and matching too many bolds, prints and patterns. If your dress is loud, keep the legs understated with a solid hue. But if the dress is simple, add a little something to the bottom half. You get the idea.
My personal favorite way to add a little autumn to my look is by amping up my accessoriesó most notably in the form of scarves. Scarves are so fun to wear and may just be the easiest way to take your look from drab to fabó no matter the season. For Fall, I like to layer a knitted scarf or tissue scarf over a plain T-shirt or dress. Add a pair of boots and youíve got an effortlessly casual look for class, a stroll through the park, or errands. The key here is to leave some skin exposedó in this case itís your arms. This outfit is a great option for those days when it really feels like youíre in between seasons: not cold enough for a jacket but still too chilly to leave the house without any layers.
Conversely, you could also choose to leave your legs bare in shorts or a mini skirt and add a sweater or blazer on top. Take this opportunity to experiment with fabrics and textures. A full-out tweed ensemble can feel a little over-the-top in the winter time, but a jacket in this fabric paired with a more relaxed bottom half, like denim, results in a perfectly balanced look. Corduroy and on-the-rise metallic are other materials to experiment with this season. If youíre wearing a louder print on bottom, like your favorite paisley skirt or seersucker shorts, a solid blazer would be a great way to add a touch of sophistication to your casual look.