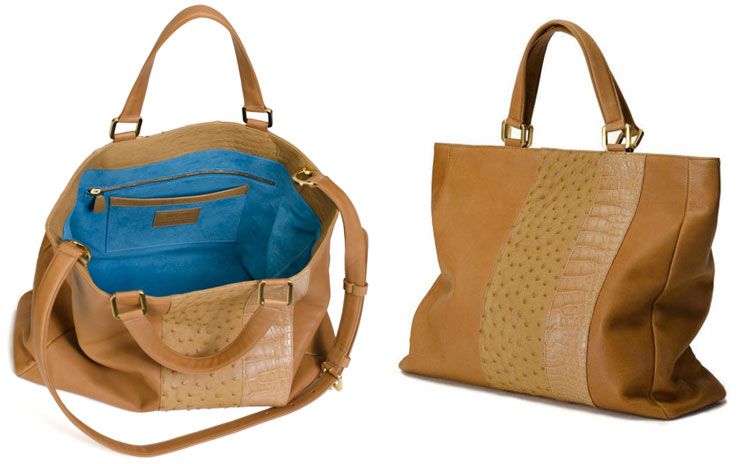 Photo Courtesy of Anne Sylvain
It is time to put down your past-its-prime purse and latch on to your newest fashion accessory: the exquisite line of handcrafted
luxury handbags
and wallets from Anne Sylvain. The label's debut "Le Mans" collection was named after and inspired by the annual road race held every year in France since 1923. The sexy contours, sleek silhouettes and mixes of elite materials of the event's featured premier sports cars are what gave way to this beautiful collection. With each piece you find a juxtaposition of textures, colors and tones carefully selected from matte and glazed genuine exotic skins and fine leathers.
As a child, designer Patricia Raskin was always drawing, painting, and designing with the loving encouragement of her artist and fashionista grandmother, Anne Raskin. Although she contemplated a career in the arts, Patricia ultimately decided on following in her grandfather, Silvan Galpern's footsteps and headed to law school, after which she worked as a business lawyer for 15 years. It was then that she decided that she had to give way to her artistic side, and began to devote her time to her creative inspirations.
Each handbag or wallet is the product of careful hand cutting and the selection and precise placement of exotic skin pieces, ensuring that each individual bag has its own unique look. Anne Sylvain uses a variety of the world's finest and most sumptuous leathers– including American alligator, French lambskin, New Zealand deerskin and South African ostrich– each of which are carefully sourced from eco-conscious suppliers. Custom color and leather selections are available, and bags may be personalized with a client's initials stamped in gold or silver.
The collection, Le Mans, comes in a range of lovely fall colors including camel, burgundy, plum, back and grey— each of which are expertly crafted as to leave you with a finished product that is both functional and beautiful. These striking pieces make a fashionable statement, all the while remaining classic and undeniably chic – a perfect combination for the modern day woman. The collection ranges in price from $50 to $2,350 and is available at specialty retailers as well as online.