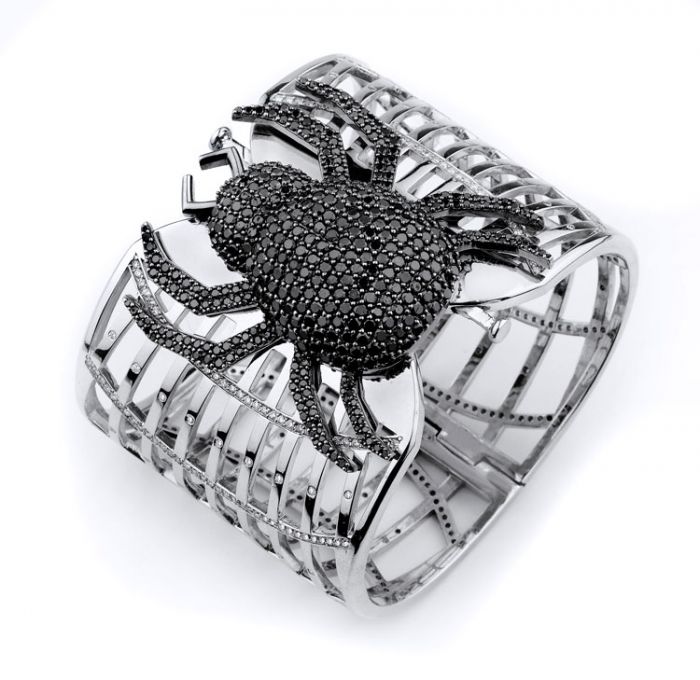 Photo Courtesy of J&Y Rocks
Most women would squirm out of their seats if they looked down to see a large, black spider resting on their arm. But it might be a different story if said spider was adorned in 10 carats of black diamonds and was part of an ornate wrist-cuff. This bracelet is the Charlotte Cuff by
luxury jewelry
designer Jane Berg of J & Y Rocks. With her love of diamonds and an attention to detail, she was originally designing only for herself until the comments of friends and strangers prompted her to begin her own high-end jewelry company. Largely showcasing white and black diamonds in gold settings, the collection features "edgy glam" pieces that range from elegantly morbid to conservatively feminine.
Berg is not afraid to use macabre themes— and those with Arachnophobia should beware her Charlotte Line, a series that highlights the eight-legged insect. A sparkling spider hangs dangerously from the end of the earrings in this line. If you prefer bats and skulls, you can choose one in diamond encrusted form from either the Midnight or Rebel Line. On the brighter side, Berg includes some very conservative looks in her collection as well. The China Girl earring is super feminine and looks like a jeweler's interpretation of the decorative panels found on pagodas in the Far East. I like that these are fashioned simply from white gold with white diamonds because it subtly highlights the complex design.
For a classic event, the elegant Jude Line offers earrings beset in thick white diamonds. These white gold earrings are show-stopping and would work for any upscale event. My personal favorite though from the J&Y Rocks collection is the Couture Heartbreaker Combination V Earring. Decorated with multi-colored stones — white diamonds and pink sapphires — in a rose gold setting, this fun earring is young but elegant, and would really spice up a casual outfit or a simple cocktail dress.
With expertise in fashion merchandising, modeling, interior design, and managing large jewelry stores, Jane Berg started J&Y Rocks "for the woman who likes to set herself apart from the others." The collection is unique in that the pieces come apart in either three or four pieces to give different looks. By attaching pieces from one line to another, the collection is almost an entirely interchangeable experience.
In addition to the collection, they also offer customization work. Stones can be replaced as the customer sees fit, and they work with white, yellow, and rose gold, as well as platinum. Shapes can be modified as well. Berg oversees the process from creation to setting, and Yaish Levy, with 47 years experience, makes the jewelry in Chicago. The collection can ranges from $1000 for the Pave Ice Cube Necklace to $130,000 for the Limited Edition Cuff Bracelet.