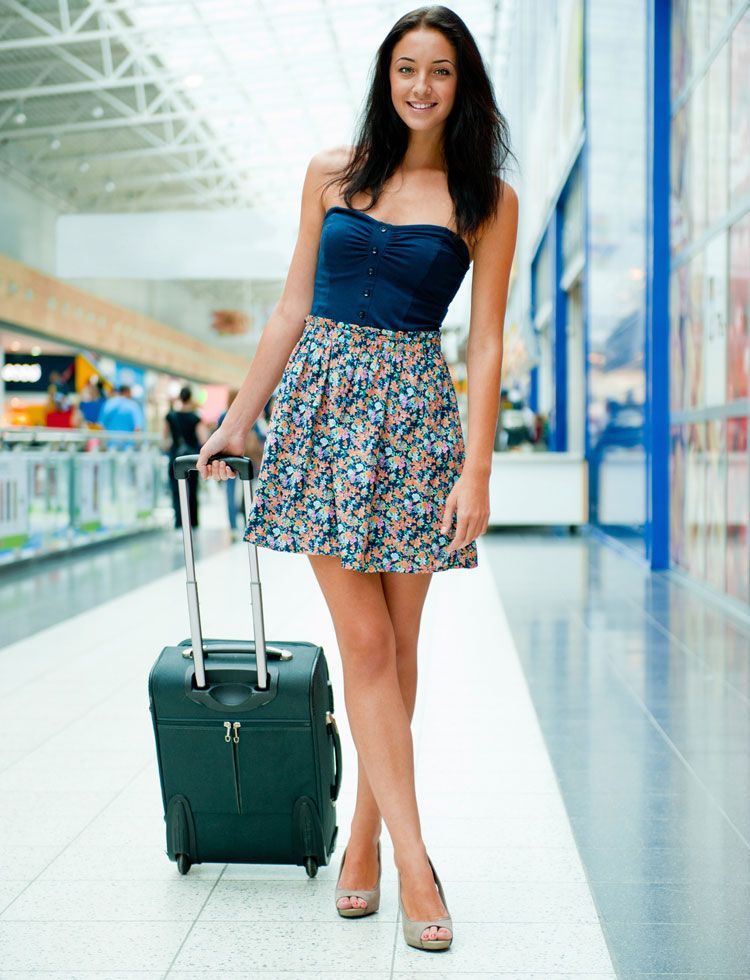 Photo Courtesy of iStockphoto/Thinkstock
In a time when security is high, long layovers are typical and opting for a shapeless sweat suit at the airport is (somehow)
still
the norm, why not blow other travelers out of the water by proving that just because you're flying doesn't mean you have to neglect
luxury fashion
? Yes, you'll probably be sitting in the same cramped seat for several hours, but that doesn't warrant anyone to look as though they just rolled out of bed. Plus, there are plenty of stylish and flexible wardrobe items which means you can look cute without having to sacrifice style for comfort. Below, the five clothing essentials you need to look put-together for your next flight.
Leggings
They're form-fitting, they're stretchy, and they can be worn with just about anything. Basically, leggings are a girl's best friend, and if you haven't already, you should become acquainted with them. Wear a cute, feminine dress or tunic to the airport to keep it chic, and add leggings underneath to give you versatility, warmth, and the freedom to curl into any position that's comfortable once you're on the plane. Sporting this combo gives you the same comfort as yoga pants and a t shirt with way more class and style.
Photo Courtesy of iStockphoto/Thinkstock
Lots of Layers
If you're anything like me, you hate flying for the sole fact that it feels as though you're in Antarctica for the entire duration of a flight. Smarten up and wear a ton of layers, including the oh-so-stylish denim button down and a comfortable, wrinkle-free blazer in a neutral color. The point is to look casual but also put-together, so leave the track suit at home and opt for stylish separates that can be mixed and matched. One added plus to wearing your jacket on board is that it takes weight out of your checked bag, and can even double as a blanket or pillow.
Photo Courtesy of iStockphoto/Thinkstock
Scarf
Bring your outfit up a notch with one more layer: a long, versatile scarf. There's something about the chunky, layered look of a scarf around the neck that just screams chic, even if it's worn with simple jeans and a t-shirt. Solid prints are always a safe choice— they go with just about anything which means fewer accessories in your checked luggage— but bold scarves are a great way to bring your nomad-chic look to the next level. Look for a bright hue or funky pattern to turn heads.
Photo Courtesy of Ryan McVay/Lifesize/Thinkstock
Comfortable Shoes
I'm sorry ladies, but I think it's safe to say the era of the Ugg Boot is over. Luckily, there are a number of options that are just as easy to slide on and off in the security line that are much more fashion-forward. I'm not asking you to pull out your sky-high stilettos here— look for cute flats that make a statement. This can be as simple as a bright, bold color or a cute embellishment. If boots are more your thing, just stay away from the knee-high lace-ups and buckle-heavy combat boots— the security line isn't necessarily accepting of hold ups for high fashion.
Photo Courtesy of iStockphoto/Thinkstock
Sunglasses
Sunglasses are a must-have item for arrival to cover up tired eyes. Not only do they add an extra accessory to your stylish get-up, but they add a glam factor that encourages you to channel your inner celebrity while strutting through the terminal. Bon voyage!
Photo Courtesy of Hemera/Thinkstock