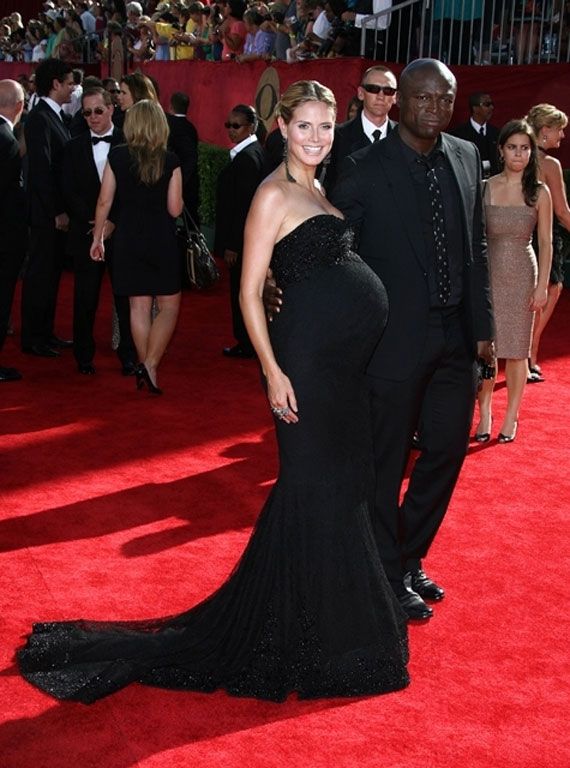 Photo Courtesy of Heidi Klum
It seems like almost every week a new A-lister is making
celebrity news
for debuting a baby bump. Last week it was the Duchess of Cambridge, this week it's Jenna Bush, and maybe next week Jessica Simpson will confirm her suspected second pregnancy. And while there has always been a steady flow of pregnant moms in Hollywood, celebrities are making a trend out of their babies now more than ever. That's right, babies— and even baby bumps— are the latest must-have accessories in fashion and style. Here are three different ways that you can incorporate your baby into your style, too.
One big way celebrities are including their babies into their style is through their actual accessories. Luxe strollers are one popular way to go— in addition to adding another accessory to your look, baby items are another way to flaunt names and labels. This double stroller by Phil & Ted's has gained a lot of press attention since Jessica Alba started pushing her two children in it after the birth of her second daughter in 2011. This particular "Dot Buggy" model retails for about $450, and the brand's website lists other big-name celebrities like Dermot Mulroney, Autumn Phillips and Naomi Watts as its clients. Another popular accessory is the baby sling carrier like those that retail from about $50 to $60 by the brand Baby K'tan, who lists celebrities like Julia Roberts, Jennifer Lopez, and Marcia Cross as a few of its many celebrity clients. And don't forget about the several versions of baby bags— the options are endless!
Photo Courtesy of Jessica Alba
Little do the kids know, they start becoming part of their mom's style when they're still in the womb. We see a lot of moms— celebrity or not— incorporate babies into their style by wearing their bumps loud and proud, even in the latest stages of their pregnancies. Most people would agree that a mother's glow adds something extra special to her look, and celebrities are no exception. Over the last few years, we've seen A-listers flaunt their tummies right and left, whether that's on their personal websites and photo streams or on the glamorous Red Carpet. Heidi Klum's biggest accessory on the Emmy's Red Carpet in 2009 was her ready-to-pop baby bump— and it was in 2006 and 2005 as well. In 2011, Natalie Portman accepted an Academy Award and stunned on the Red Carpet just months before giving birth to her son. And with awards season right around the corner, we're sure to see a number of pregnant stars emerge this season.
Photo Courtesy of Natalie Portman
Finally, one more way that moms can incorporate their kids into their style is by simply dressing their kids up to match their own wardrobes. We love seeing celebrity mothers off set and off duty being plain old "Mom" to their kids. Tori Spelling has written on her own blog that out of all the characters she's played on screen, her biggest role in life is being the mother to her own kids, and she admittedly takes pleasure in dressing them up to reflect her own style. Just take a look into any celebrity magazine and you'll see a large number of working moms with their kids in tow, dressed to a T.
Photo Courtesy of Tori Spelling