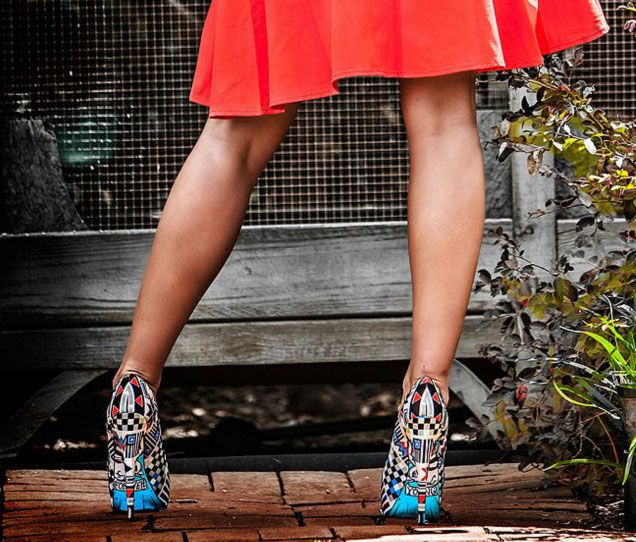 Photo Courtesy of TaylorSays
Fashionistas everywhere owe props to designer Louboutin for his ubiquitous red soles. He put brand identification by way of a signature shoe bottom on the map, and for that, we say, "thank you." Does sole design end there? A young California native does not think so, and is expanding on this well-seen area of the shoe. Using her aesthetic talent and bold patterns to adorn the often neglected undersides of a stiletto, Taylor Reeve is intent on spreading her art to the streets with her
luxury shoe
collection, TaylorSays.
Reeve was first inspired to paint the bottoms of heels from seeing the thematic "I Do" painted on a pair of wedding shoes. Taylor realized the sole of a pump is the "perfect real estate" for her art. Her form of artistic talent, which comes naturally, is still pretty unique in the shoe industry. All of the heels from TaylorSays feature an original design, making them one-of-a-kind, wearable art.
If you are looking for California casual in terms of comfort, this might not be the right fit, as the TaylorSays line is comprised entirely of platform stilettos. SoCal represents in this brand with looks from Americana, Rockabilly, and surf culture. I think one mark of a talented designer is being able to provide a range of wearable styles, and Taylor succeeds here. Her pumps are quirky and whimsical with devil, shark, anchor, and smiley face designs. More classic styles display solid colors, heart accents, and crystals.
"Devilicious," a pair of sinfully bright red heels with tiny devil horn accents, are adorned underneath with a cartoonish skull. The blue flames on the soles are a charming touch. Not everyone will go for the playful "Sharkie" with its gaping mouth or the bright Smiles— neon yellow with a smiley mouth, of course— but they are cute and original nonetheless.
It would seem the stunning patterns displayed on the stilettos would clash. For example, the colorful "Roddie" is a retro, graphic print featuring blue soles with a pair of sparrows for a background. Another, the "Brossie," has sports flag colors in an abstract layout with a skull peeking out from underneath. They're interesting combinations, but they all work very well together— the colors contrast well and designs are strategically placed, not messy.
I favor the gingham-printed "Melons" with bright watermelon soles. Simple and feminine, they evoke the period of the 1950's pin-up. The "Vegvis" are killer with a lustrous, gold-capped toe. When people turn to look, they will see an Elvis skull, complete with the pompadour.
Taylor's bold pumps are most definitely art pieces and will no doubt make statements wherever they are worn. Maybe some will shy away from the bold patterns thinking they are too young and fly, but with the right attitude, anyone could pull them off.
Hailing from a family of artists, Taylor Reeve is the owner and designer behind TaylorSays, and has been painting on everything from clothing to surfboards to her car's dashboard. She has worked with Quiksilver, Bell Helmets, Dragon Alliance, and Skullcandy, creating an artist series for each company. Her current collection ranges in price from $119 to $269.