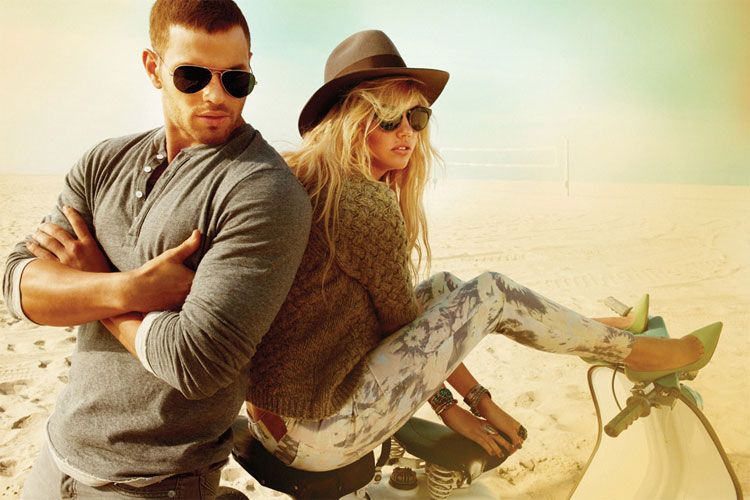 Photo Courtesy of Dylan George and Abbot + Main
Thanks to YouTube and other social media outlets, each year we?re graced with a slew of viral videos, whether they?re funny, serious, or just plain entertaining. But then there are those videos that truly touch us? in this crowd, they usually have something to do with
luxury fashion
. We saw a plethora of fashion-related videos in 2012, and here we chose our favorites to share with you. Here?s to hoping 2013 brings us just as much fabulousness!
Making of MANGO Summer 2012 Campaign with Kate Moss
Love her or hate her, recent years have proven that no matter what her extracurricular activities include, Kate Moss is and always will be a pillar in the world of high fashion. The supermodel put her talents to use in MANGO?s Summer 2012 campaign, and we were lucky enough to get our hands on a behind-the-scenes look at the video?s making. We must say, the 38-year-old veteran has still got it? and there?s something about watching Kate move in front of the camera (and occasionally crack a smile) that makes her seem a little more human.
Behind-the-Scenes of Chanel Winter 2012-13 Runway Show
Even more exciting than watching the magical creations of iconic fashion house Chanel walk down the runway is getting a sneak peak at what goes on behind-the-scenes at said runway shows. Chanel?s most recent catwalk was set up just last month at Linlithgow Palace in Scotland? and as distant as that seems to us mere mortals, we get a little taste of the magic that occurred at the event by watching this special video. An unexpected bonus? Look extra close and you?ll catch a glimpse of the iconic white ponytail that is responsible for Chanel?s most recent designs.
Dylan George and Abbot + Main 2012 Campaign Video
There?s something about this campaign that just screams sexy? it could be the palm trees or vintage Mustang? but then again the chemistry between models Kate Upton and Kellan Lutz is pretty undeniable. Both stars of the campaign sport threads from Dylan George and Abbot + Main's 2012 collection? but we almost prefer the parts where Lutz foregoes the designer duds and opts instead for a natural look. Needless to say, this is one of those videos that we could watch over and over again, and we think you?ll agree.
Lanvin Petite?s Winter 2012 Promotion Video
There?s something about watching these adorable French babies goof off while wearing designer threads that makes us unable to resist cracking a smile. In Lanvin Petite?s Winter 2012 campaign, some of the cutest kids we?ve ever seen play dress up for the camera? dolls, tricycles and puppies included? and we must say, these little ones know how to work it. We?re sold.
Victoria?s Secret Behind-the-Scenes Video with Doutzen Kroes
Two words: Victoria?s Secret. In this exclusive video, model Doutzen Kroes takes us behind the scene of the intimates brand?s Holiday 2012 shoot, and we think every viewer will be left wanting more. The Angels posed in their everyday garb? lacy undergarments and oversized wings? on location in Newport, Rhode Island to wish you and yours an especially happy holiday season.
Making of Louis Vuitton Spring 2012 Ad Campaign
Marc Jacobs has long served as the artistic director of Louis Vuitton? and this year we saw the designer put his talents to use in an ad campaign for the luxury fashion house that is just as colorful as Jacobs, himself. This super sweet video documents the making of the campaign that promoted Louis Vuitton?s lacey, pastel-filled spring offerings from last year. Complete with malt shakes, rock candy, ice cream sundaes, the props used in this shoot look just as decadent as the garments themselves.