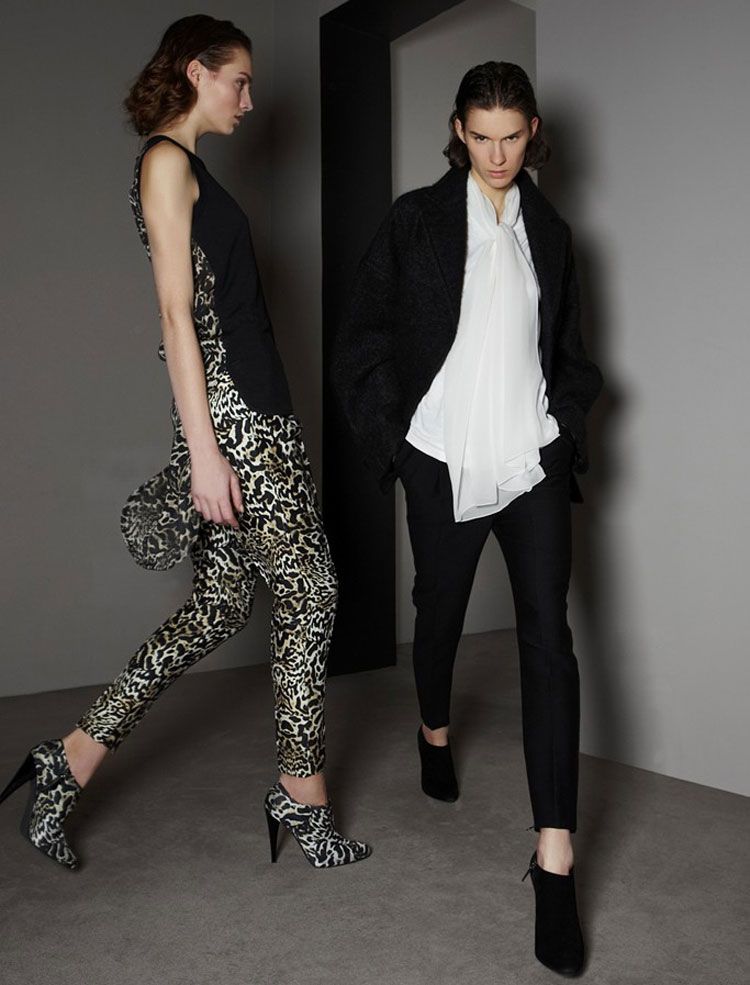 Photo Courtesy of Giambattista Valli
Sleek and chic cocktail dresses and gorgeous flowing gowns are usually what we see walk the runway at Giambattista Valli's
luxury fashion shows
; Jessica Biel agrees, wearing a custom pink couture creation for her nuptials. And while critics have raved over these beautiful creations through the years, the Italian designer is mixing things up in his Pre-Fall 2013 collection, 'Parisian girl meets the Manhattan boy,' with masculine touches that elevate even the most simple silhouettes to a new level of sophistication.
Breathing new life into wardrobe basics like blazers, peacoats, T-shirts and jogging pants, Valli incorporates satin, animal prints, feathers, fur, florals and lace, while still keeping it cool and casual. The consistent color palette of red, black, grey and white make each look accessible in its own way. Not to mention, a girl could really get used to the comfort of a well tailored, sharp looking 'sweatpant' when traversing the day-to-day demands of work, friends, family, and social schedule.
Girly girls fear not though—Valli is not completely without his signature dresses in this pre-fall collection. Sifted into the boyish charm of edgy outerwear are some flirtatious cocktail and evening options, complete with accentuated waistlines and plunging necklines. Never coming but a couple inches over the knee, each dress remains modest, while still finding a way for the woman under it to exude sex appeal through unexpected flashes of skin here and there.
With the Screen Actors Guild Awards quickly approaching, there is one piece we could definitely see walking the carpet: A silver and black number donning a flattering black strip at the waist, sheer black hemline, and playful feathers at the bust. We could see stylish Emma Stone telling curious commentators Giambattista Valli was the man behind the sparkly dress, as paparazzi flashbulbs capture the moment.