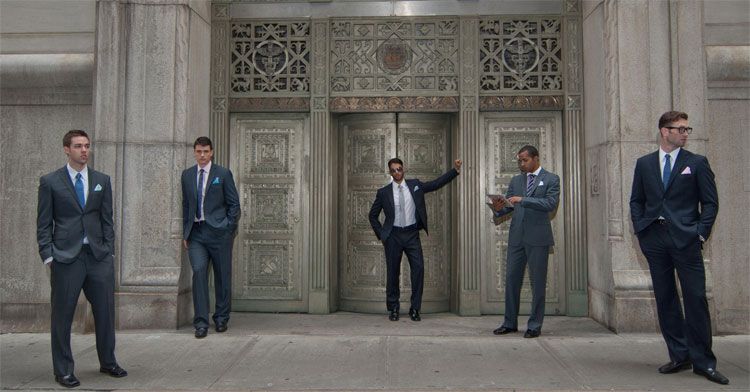 Photo Courtesy of 7 Regent Lane
If a company contacts us and says it sells premium
luxury suits
for less than $700, we are going to try to find out as much as possible before writing about it. The online clothier, 7 Regent Lane, is a Philadelphia, Pennsylvania-based startup that opened its website in late January, 2012. Two business students from the University of Pennsylvania's Wharton School of Business, along with another partner, launched it when they found a gap in the market for impressive bespoke suits.
The e-haberdasher sells various styled suits, sports jackets, dress shirts, slacks, neckties, and accessories on its e-store. The firm sells men's suits in three classes; however, since we are
JustLuxe
, let's focus on the Elite Collection, which runs between $600 and $700 per suit. In an interview last March with
Technically Philly (TP)
, a news organization that covers technology issues in the Philadelphia region, the company founders were asked how the price for a high-quality suit was so low.
TP
reported that the CEO Karen Chung took a trip to Shanghai, China, and she became familiarized with the well-known affordable tailoring tradesmen there. The company also indicated that it has done R&D on its business model for nearly a decade. Dave Reynolds, the company's CTO, told
TP
that it buys in volume and takes advantage of China's lower labor costs. 
"At 7RL, we intended our collections to be timeless and our products to be an investment that our customers can wear for years to come," said Karen Chung. "Our inspiration behind the brand was the realization of how critical fit is to looking good in a suit and our passionate belief that custom tailored clothing should be an option for every man."
The suits of the Elite Collection are made from 100 percent wool or a cashmere blend. The jackets are made with a fully canvassed jacket, which is important because a jacket with a canvas lining lets the suit drape naturally. The canvas is cut to the shape of the jacket and then the wool is stitched to the canvas. Swatches of the fabric also are available to customers, so that they can feel in advance what is being purchased.
7 Regent Lane also offers the Flawless Fit measurement process, which includes videos on how to get DIY measurements. However, if you are going to speculate like this, why risk being the weak link in the process? Go to a tailor and get measured correctly. From there, it will take only three to four weeks for 7 Regent Lane to deliver a suit.