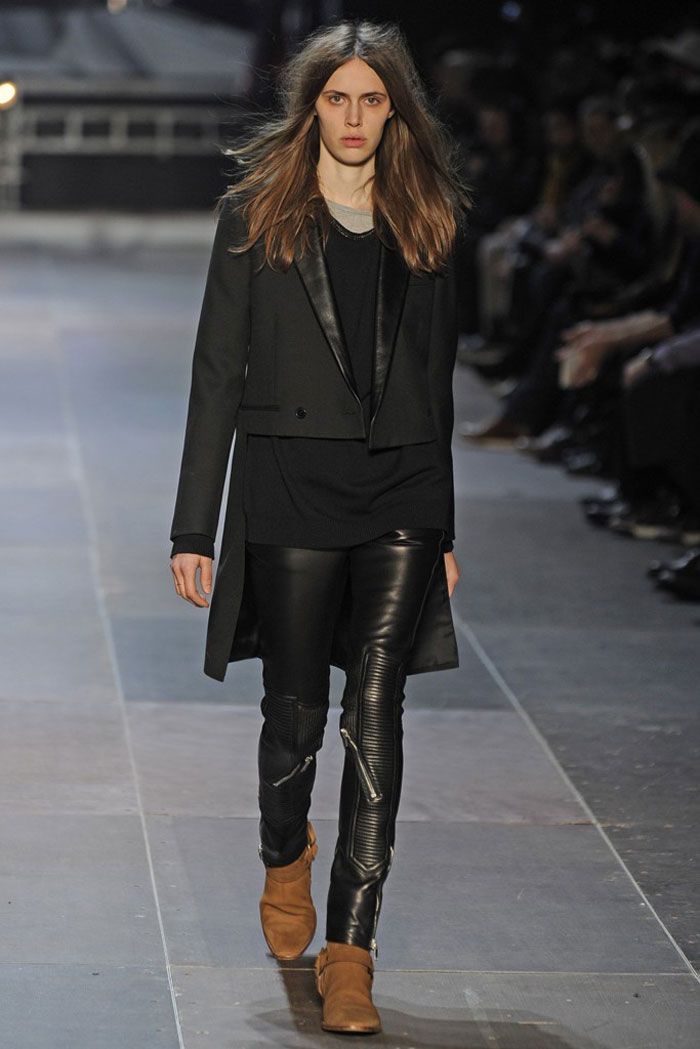 Photo Credit: Giovanni Giannoni/WWD
As we all know in
luxury fashion
, everything comes full circle; and this is certainly the case for fashion's current man on top: Hedi Slimane. After showcasing his designs for Saint Laurent this season, (his first menís show since 2007, when he exited Dior Homme) Slimane is definitely making waves in the world of menís fashion.
Through the use of androgynous models wearing fitted and tailored jackets alongside destroyed skinny jeans and skin-tight slacks, Slimane showcased a line that was very reminiscent of rock and roll artists from the '60s in London. Not straying far from the grudge-rocker looks he made famous during his days at Dior Homme, Slimane took this inspiration and amplified it by adding pops of color, different patterns and more overall grit.
In a move that is in line with Slimaneís youthful and rebellious menswear, (a stark contrast from YSLís legacy of elegant and put-together ensembles) he also chose to rename the collection and stores to Saint Laurent.
It wasnít simply the outfits that had a twinge of defianceó the runway show was an amusing combination of speakers spinning and flashing all the while blasting energetic rock music. Employing of a variety of actual musicians from Los Angeles to England as models for his show, Slimane practically created his own couture music festival.
A combination of grunge, goth and fashion-forward hipster, this collection is certainly geared towards actual rock stars as well as self-proclaimed rock stars. Ripped jeans were decorated with metal details and paired with fitted flannels, bold scarves and tailored jackets or over-sized knits.
So this season, why not skip the karaoke or Rock Band and unleash your inner rock star with Saint Laurent?