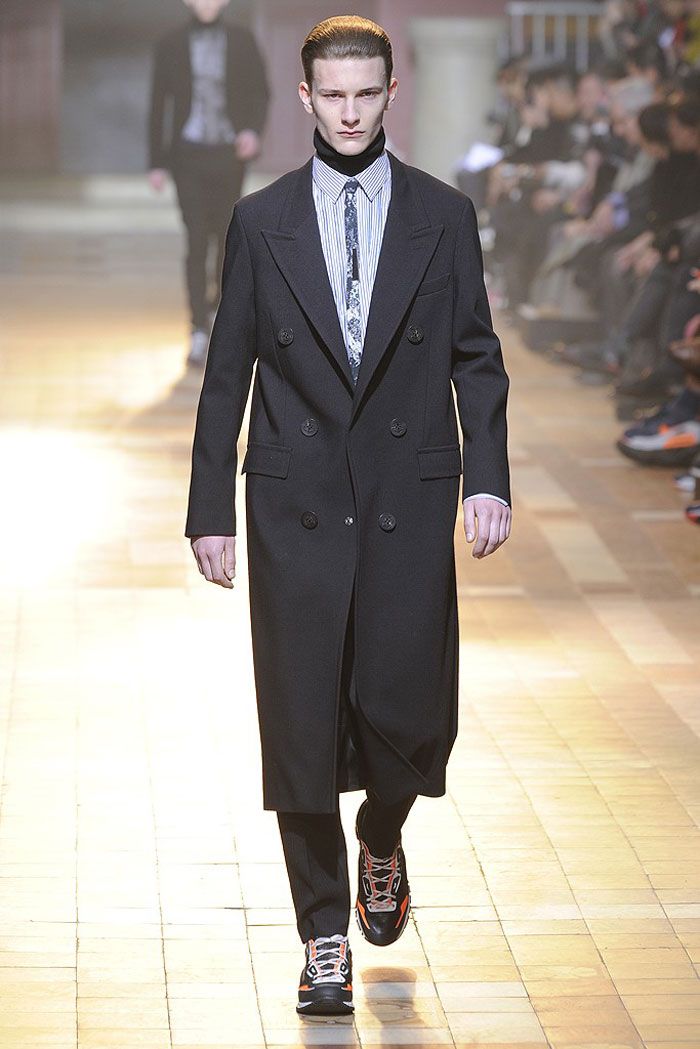 Photo Courtesy of Lanvin
Luxury designer
Alber Elbaz is no rookie when it comes to creating sleek menswear that is just as wearable as it is chic. Chalk full of edgy and sophisticated pieces, this dark collection contains a range of ensembles that was clearly designed with the customer in mind. With a variety of diverse silhouettes and fabrics, this line is ideal for any dapper man. Virtually every look has its own personality, yet still remains cohesive with the overall collection.
In last week's runway show in London, elongated coats with sharp shoulders and decorative buttons were found alongside oversized and rounded jackets that had zipper pocket details. Undeniably intense, the 2013 RTW collection by Lavin used dramatic graphite with black fur accents— also present were structured double-breasted jackets made from leather with molded buttons. We also saw pops of plaid and a modern leisure suit consisting of an oversized shirt and fitted pants.
Along with this moody and masculine palette, there were also scattered breaks that allowed for lively color bursts as well as youthful energy. To give these incredibly put together looks an athletic and rebellious edge, many of the outfits were finished off with fun sneakers.
It is impossible to talk about the newest Lanvin collection without addressing the men's accessories. While we realize it takes a very specific, fashion-forward man to rock a handbag of any type, Alber Elbaz has created a wide array of accessories— from camera bags to bowling sacks that are inarguably luxurious and surprisingly masculine. One particular coal-black calfskin leather camera case was proof that simply because something is carried along your shoulder, doesn't make it is a purse by any means.
This strikingly handsome and stylish collection of men's apparel and accessories is quite clearly made for the gentleman on the go, yet with a genuine dedication to style.