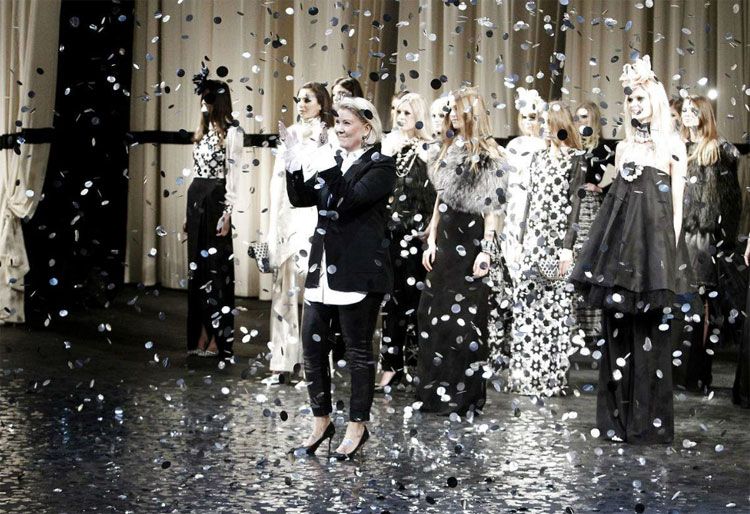 Photo Courtesy of By Malene Birger
Fashion Week just wrapped up in Copenhagen, where
luxury fashion
designers— both local and international— showed their Fall 2013 collections from January 30 through February 3. Several talented designers presented ready-to-wear collections for next season, but there were a few who really caught our eyes. Read on to discover our top picks from Copenhagen Fashion Week 2013.
By Malene Birger
Malene Birger
presented her 10-year anniversary collection, titled "The Letter" at the Royal Danish Theatre. Deemed the "Queen of Fashion in Copenhagen" by MTV Europe, Birger is worshipped in Denmark and her designs are viewed as equally grandiose. Tunes by David Bowie could be heard in the theatre as Birger's models strutted down the runway sporting Seventies-esque threads. No complaint here— while the enthusiastic audience saw lots of black and white color blocking, mod patterns and a touch of fur, this collection was not in the least bit "theme-y" and instead reminded us of the groovy elements that we can actually
appreciate
from the era. All in all, Birger produced a completely wearable collection of flattering silhouettes, all the right fabrics, and chic accessories to match.
Photo Courtesy of By Malene Birger
Wood Wood
Founded by Karl-Oskar Olsen in a basement shop in 2002,
Wood Wood
has grown from its roots as a basement shop that only sold T-shirts with self-designed prints to a fully functioning luxury brand with five stores around Europe. The company's collection for Fall 2013 is called "The Club," and it's apparent that this label who is known for dapper, tailored streetwear took inspiration from the ? la mode sidewalks of New York City and threw in elements of athletic wear. Graphic prints graced the surface of everything from beanies and skirts to pea coats and even head-to-toe suits. Unconventional cuts and paneling can be seen in an array of leather garments, turtleneck sweaters, trousers, bomber jackets, and the like for both men and women.
Photo Courtesy of Wood Wood
Anne Sofie Madsen
Born and raised in Denmark,
Anne Sofie Madsen
is an up-and-comer who has the credentials and design skills that are no doubt what landed her on the path to success. Having trained under John Galliano for Dior, Alexander McQueen, and trend forecasters Peclers, Madsen presented her first couture-inspired collection during London Fashion Week in 2010 and has continued to release ready-to-wear collections each season since. Fall 2013's "Silence of Chrome" is inspired by the film "Sirens of Chrome," and has a futuristic theme like many of the designer's previous lines. Three-dimensional details like intricate origami folds, laser cutting, and appliqués on a monochrome palette result in a mystically gothic collection.
Photo Courtesy of Anne Sofie Madsen