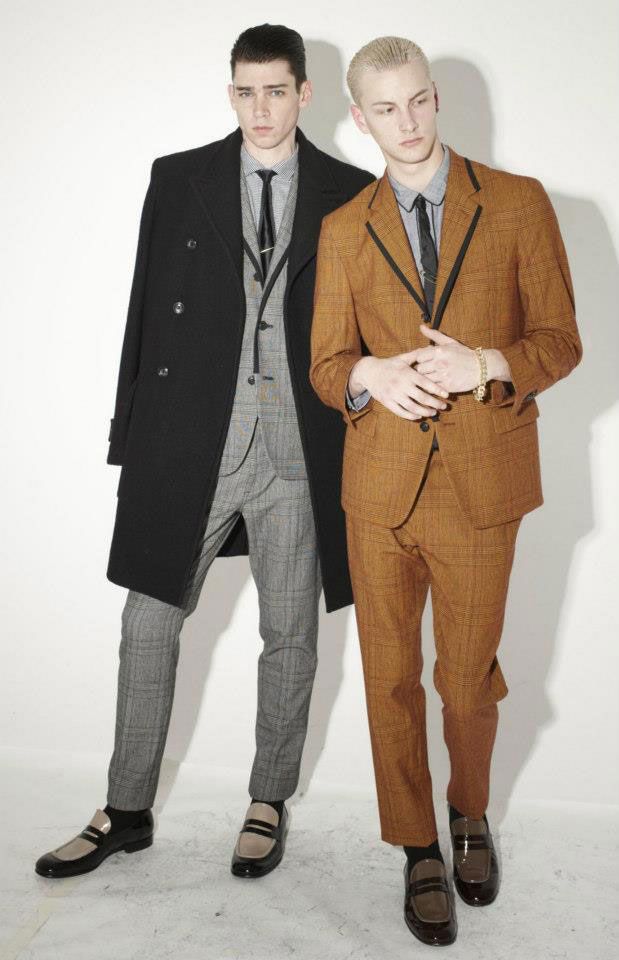 Photos Courtesy of Marc Jacobs
As a designer, Marc Jacobs is known for imitating the street style of the cool kids. Previously borrowing elements of grunge and punk for his designs, Jacobs is at it again with his Fall
luxury menswear
collection for 2013. Reaching back through time to the 1950's, the men's clothing for
Marc by Marc Jacobs
might remind some onlookers of their younger days, when they sifted through racks of tuxedo pants, windbreakers, rockabilly blazers, and the patterned suits. Although not groundbreaking, the collection does take us back to a style that was revolutionary in its day.
With his trademark effortless cool, Jacobs honors the Mid-Century British music scene, and although many of us might not have been around for those early periods of rock 'n' roll, they apparently influenced a fashion sense that went on to permeate the '70s rockabilly style. As a whole, Marc Jacobs presents a collection of menís clothing in somber colors like navy, black, and beige with just the subtlest pops of color in red or electric blue. Inspired by the look of the Teddy Boys from 1950ís London, the line recalls tuxedo pants, trimmed collars, lapels, high pant hems, and loose blazers in dark colors or muted patterns. Slim ties and Western button-ups complete the retro look.
Two-tone color schemes grace the surfaces of pea coats, sweaters and cardigans. The effect is subtle without failing to make a statement. A brown pea coat and a midnight blue overcoat both feature color-blocking in black from the breast-line up, while a black overcoat shows a long brown button placket. The blocking is pulled off more easily on a heather grey sweater cut by a brown midriff and matching sleeves from the elbow down.
Marc by Marc Jacobs offers a variety of pants for the fall season. The tuxedo styled slacks fall nicely down the leg and showcase a contrasting trim on their sides. These come in black with beige trim and burgundy with fuchsia. For a thoroughly retro look, pair the burgundy pants with a wild sweater, like pink houndstooth. Jacobs also presents slim-fitting pants with cargo pockets on the thigh, thankfully not resurrecting the traditionally baggy cargo.
The focal point of the Teddy Boy style was the suitó essentially a spin-off of Edwardian fashion made popular by Saville Row tailors. As such, the collection features the requisite suit in a loose, almost boxy fit in colors like burgundy, black, beige, and burnt orange. Decked out in checkered prints, houndstooth, and leaf patterns, most display black trim on the lapels, collars, and pockets. The resulting look is decidedly vintage, especially with the thin ties and glossed-out penny loafers. The checkered mustard blazer is ultra-retro with its matching pants and black trimmed lapel.
One of the best looks to bring out your inner crooner is the Pepto Bismol-pink suit that sports a black collar and black trim on the pockets. Electric blue slacks paired with black blazers in matching trim is just as svelte. We're not sure if the loose bow ties accentuating the jackets will make a comeback, but they sure look cool. Jacobs also includes outfits for the pure dandy who likes to keep things classic; the beige coat, jacket, and trouser ensemble with a fur collar is purely divine. Look to this collection for retro suits that rewind time back to an era of raw rock 'n' roll style. You could try to hit the thrift stores for similar pieces, but getting the mothball smell out might be tedious.