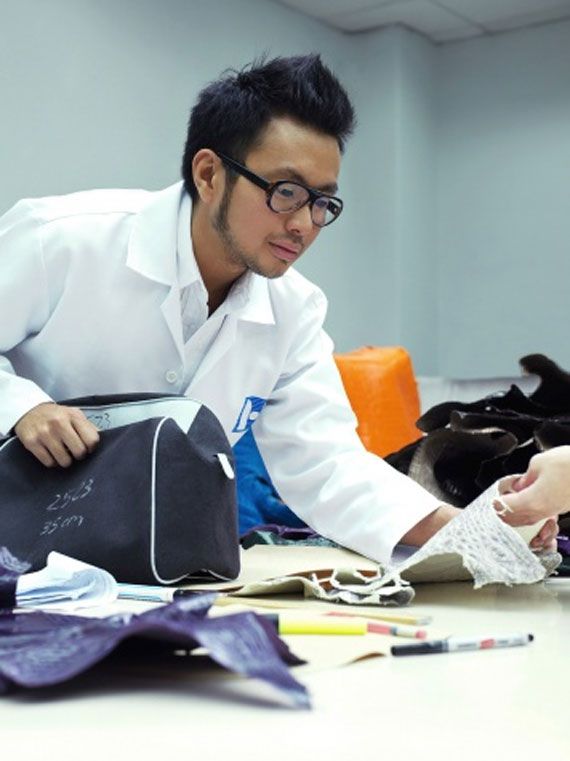 Photos Courtesy of ETHAN K
Having made a dramatic entrance on to the fashion scene with the unveiling of his debut collection in early 2011, luxury designer Ethan Koh was quickly billed as one to watch. With inspirations and influencers like Tomas Maier, Patek Philippe, Jean Louis Forain and Jack Vettriano, the budding Singaporean designer works with exotic animal skins for his luxury leather brand, ETHAN K, to handcraft limited edition items such as shoes and handbags.
Aside from his natural talent and flare, it's safe to say that as a descendant of highly specialized precious skin tanners, leather handiwork runs in Koh's blood. He's the fourth-generation son of the Heng Long International family, who supplies alligator, crocodile, and other exotic skins to luxury brands like Herm?s and Prada. Today, the self-proclaimed bag couturier calls his clients (some of which are royals, he notes to Vogue) "'High Net Worth Individuals' who know their Birkins from their Bottegas in intimate detail." Here, the 26-year-old talks about what's in store for 2013, his inspirations, and designing a bag for Dita Von Teese...
JustLuxe: What's your background?
Ethan Koh: Exotic skins are part of my DNA– I'm a fourth generation artisan in my family who utilizes them.  Observing the workshops at my father's tannery as a child and then working there inspired me to become a designer using the same precious materials.
JL: When did you first get into design?
EK:
At age 18, I started designing my first flower-inspired bags utilizing the ultra-luxurious skins of Niloticus and Porosus Crocodiles. The first bag I ever created was for my mother and I took great pride and pleasure in seeing her wear and style the bag. Her friends spotted the bag and that's when I started to think I might have the beginnings of a business. Following my graduation, the ETHAN K brand officially launched in the UK in January 2011.
JL: What's the motivation behind your pieces?
EK: I design for the ETHAN K woman, who is a true luxury connoisseur, is willing to invest in the very best and is not afraid to be different. She has a well-stocked wardrobe and is motivated by individual and "surprise" additions, which connect with her emotionally. She is an international traveler and has an appreciation of heritage, but also fine contemporary art and innovative ideas!
JL: If you could design a bag for anyone in the world, who would it be?
EK: I would love to design a bag for Dita Von Teese— I am fascinated by her role as a Burlesque artist, her specific inspiration of the 1940's, her love of red lipstick, and her elegance— not just with the way she dresses, but also in the way she moves, which is truly arousing! 
JL: What does 2013 have in store for you?
EK:
ETHAN K is being embraced in a few new markets around the world, including Germany, Monaco and the US, where we will be launching our collection soon. Also later this year, we will be unveiling our Private Salon in Knightsbridge, London. We will also have a new collection whereby I will morph into a surprising character in a short film, as well as some interesting new objects.
JL: Where do you see yourself in 10 years?
EK: I hope to have a beautiful, opulent salon in each of world's major fashion destinations. My stores will provide customers with the complete luxury experience: personal, bespoke and truly special— not large or overtly commercial, but sensual and pleasurable. 
JL: How would you want your products to be viewed?
EK: I hope ETHAN K items will be seen as treasures that are truly personal. Furthermore, I hope that their artisan attributes, including the Koh history and my family's journey, the quality and beauty of the materials, and attention to detail invested, give real pleasure and inspiration to their owners.
JL: If you weren't a designer, what would you be?
EK:
I would be a painter— I love being in touch with colors and being able to translate my thoughts into wonderful pieces that touch people's hearts! If I had another talent, I would also love to be more musically inclined and be better at the piano or the violin to create music for the ears and the soul.
JL: Which city could you return to and never be bored, and why?
EK: London! It is such a cosmopolitan city with a rich heritage. Every day I discover something new by walking the streets. The fact that the weather is gloomy on certain days and sunny on others changes my mood and brings different thoughts as an artist.
JL: What's your favorite London restaurant and why?
EK: While they say that the Japanese use their eyes to eat and the French use their heart, I believe I am a mixture of all cultures. I love the innovative menus at NOPI by my favorite chef, Yotam Ottolenghi, CUT by Wolfgang Puck and also L'Atelier by Joel Robuchon. Coming from an Asian background, food is a large part of our culture— even my collection colors are inspired by Asian Spices.
JL: My motto for life is...
EK:
"Aut viam inveniam, aut faciam"— I will either find the way, or I will create it.