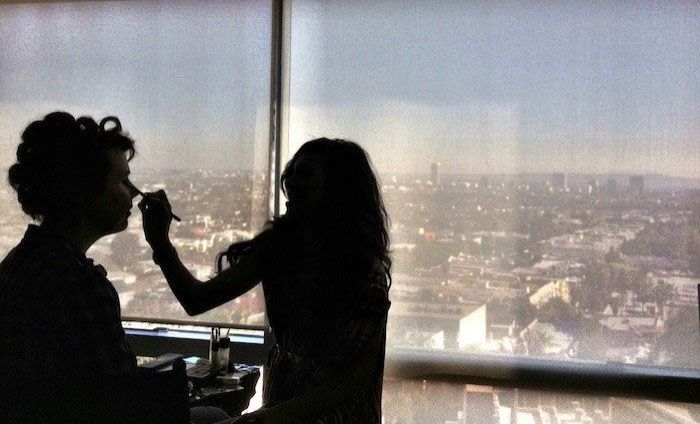 Photo Courtesy 2Sense-Los Angeles
Presented by JustLuxe & The 2013 Lincoln MKZ
This March, 25-year-old Ohioan Jenna Petardi enjoyed an experience of her Hollywood dreams courtesy of JustLuxe and Project Ethos. Normally, Jenna "never enters online sweepstakes," but said she was drawn to
"Mingle with The Masters"
and a chance to win access inside the world of high cuisine, fashion or art.
Presented by Lincoln Motor Company and the all-new 2013 Lincoln MKZ, Jenna found the sweepstakes right here on
JustLuxe
. It came as complete shock to Jenna when she received a call from JustLuxe's managing editor telling her she had her choice of three fabulous prize options.
Photo Courtesy 2Sense-Los Angeles
Of the luxe excursions, entering the world of fashion in Hollywood was a "no brainer," exclaimed Jenna. Living "closer to the East Coast," Jenna opted against the culinary experience in New York City and an art inspired venture aboard a yacht in Miami. Instead, she and her beau Don boarded a jet plane West, where Jenna's prize treated her to three days of VIP Hollywood pampering during LA's vibrant Fashion Week.
There was excitement in the air as the couple's plane touched ground, and that excitement soon began to escalate as their driver made his way down Hollywood Blvd. After checking into the stylishly modern Andaz West Hollywood, Jenna was greeted with a welcome kit full of valuable Fashion Week essentials. The Mingle with the Masters Sweepstakes presented by the 2013 Lincoln MKZ included a prize package valued at approximately $10,000.
Photo Courtesy 2Sense-Los Angeles
JustLuxe awarded Jenna with two roundtrip airfare tickets to Los Angeles during Fashion Week, a fabulous hotel suite overlooking the Sunset Strip, on-demand access to black car service, a $500 La Prairie spa treatment, a $250 pre-paid credit card for dining, and a $1,000 pre-paid credit card for shopping. In order to provide Jenna with a truly unforgettable experience, JustLuxe turned to the masters of fashion in LA,
Project Ethos
.
Known for combining runway shows, live concerts and an art gallery under one roof since 2005, Project Ethos provided Jenna and Don with VIP runway seating, as well as access to its arsenal of local fashion and beauty experts.
Photo Courtesy 2Sense-Los Angeles
Shortly after arriving, Jenna was whisked off to de-stress from the long flight at The Beverly Hills Hotel Spa. A $500 credit availed a 90-minute Swedish deep tissue massage and a 60-minute facial by
La Prairie
.
"Oh my gosh it was amazing and such an escape!" Jenna added.
The curious couple took an evening to explore LA, where they tried Korean BBQ for the first time at a Koreatown favorite, Road to Seoul. The following morning they called for their car service, which brought them to celebrity wardrobe stylist, Josh Canady. Canady led Jenna from shop to shop pulling from Zara, H&M and Macy's to complete a killer outfit that incorporated a leather peplum mini and spring's hottest color, canary yellow.
Photo Courtesy 2Sense-Los Angeles
And because no look is complete without a hair and makeup team, Jenna returned to her room to find LA-based,
Naomi Marin
, setting up her Mac makeup table. Hair designers Randy Madden and Kristen Urlacher from
Salon Sessions Studio
were also present, prepping for a trendy updo.
"I can't believe this is happening to me," a giddy Jenna was overheard saying, as her hair was tousled and Naomi brushed her cheek with a finishing shimmer.
After the fun makeover party in their hotel room with the creative and upbeat Project Ethos team, Jenna and Don were escorted to Avalon Nightclub in the heart of Hollywood for red carpet arrivals at the fashion event of the week.
In typical Project Ethos style, art adorned the Avalon's main room and Bardot. With Project Ethos focusing on up-and-comers throughout the fashion regalia, the artists laid canvases of the mysterious and jaw-dropping. The music provided continued entertainment, including an eclectic live performance from pop-alternative band, Fire in the Hamptons. Mixing more music and art, DJ Stubbs and breathtaking trumpeter Matt Von Roderick dropped beats in Bardot. And DJ Aaron Colbert took over the tables at the after-party celebration.
Photo Courtesy Project Ethos
On stage throughout the evening, cat-walkers shared the spotlight with live art features, sexy body painting, and inspiring live portraits. Celebrities from America's Next Top Model and Bravo sensation, Lily Galichi walked the runway stunning in designs by fashionable up-and-comers.
Photo Courtesy Project Ethos
"We had an amazing view of the show and my most favorite part was the encore fashion show from designers T. Rain and Andrew Christian," said Jenna. "I had such a blast working with JustLuxe and everyone and getting pampered…I felt beautiful and extremely lucky. I want to move here!"
Hollywood welcomes you back anytime, Jenna!