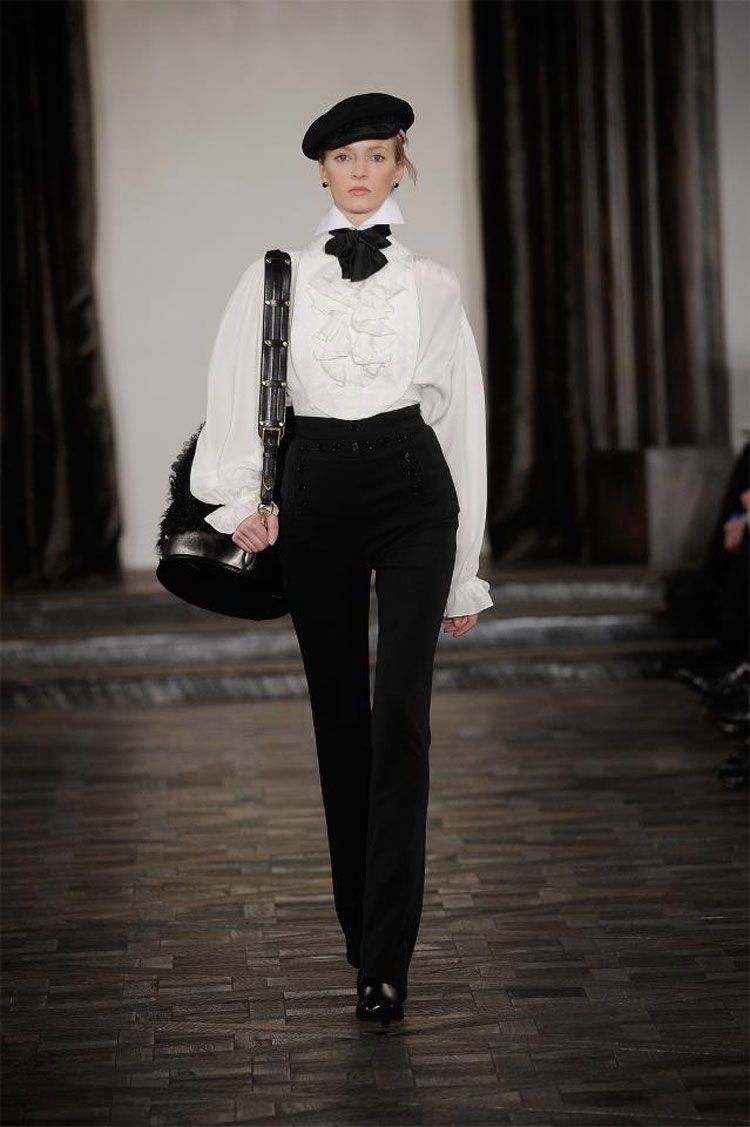 Photos Courtesy of Ralph Lauren
It is hard to pinpoint one specific area of inspiration for the Ralph Lauren Fall 2013 ready-to-wear collection. With clear references to Parisian chic, old-world Russian glamour, and sailor-inspired ensembles this
luxury fashion
collection is a delightful mixture of some of our favorite trends. Posh and put-together, the outfits certainly contain that quintessential
Ralph Lauren
appeal along with one of our favorite fall looks: black on black on black. The mixture of dark hues coupled with Ralph Lauren's sophisticated style results in a collection that blends Old World elegance and contemporary prep.
Bursting with sailor-inspired ensembles detailed with luxe velvets and intricate tapestry embroideries, Ralph Lauren's ode to romance and nautical sea voyages provides a wonderland of aesthetics that blend together wonderfully. Lauren is no stranger to pieces that reference military designs, and this collection is chock-full of these structured ensembles. Fierce and form-fitting peacoats can be found in either black or navy with bold collars and crisp buttons, while trousers are slender and demure, allowing the rest of the look to be the focal feature.
Poetic details can be found throughout the looks, with soft puff-sleeves, nip-waist peacoats and flowy tops with rufflike necklines. Some of the most feminine and lovely pieces are the evening gowns, which include deep-toned velvets that have a very vintage vibe, with some of the looks layered under sleek jackets and paired with beautifully intricate bags. Traditionally Russian design appears to have influenced the gorgeous and dramatic tapestry-like handbags. These charming carpet bags have rich, yet faded tones, further emphasizing the pre-revolutionary Russia look, making for an ideal accent piece to the rather dark collection.