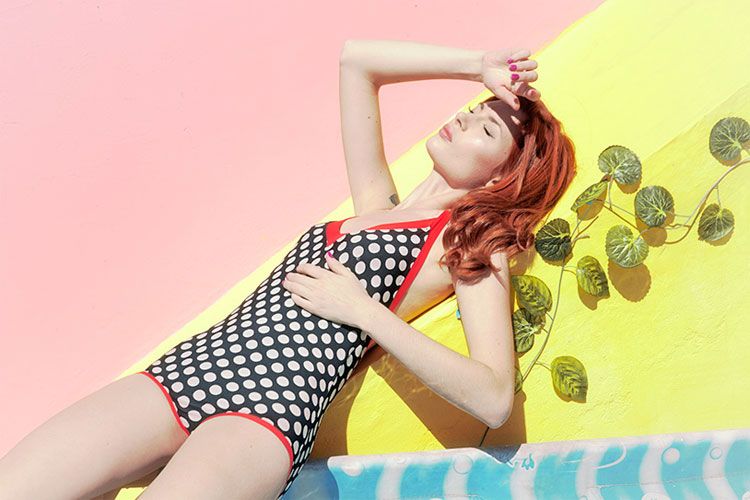 Photos Courtesy of La Belle Rebelle Swimwear
Vintage and swimwear lovers have something truly exciting to look forward to this summer. A new swimwear line called La Belle Rebelle combines flirty prints, feminine silhouettes and attractive aesthetics to give women the ultimate style on the beach or at the pool. Full of vintage cuts with prints inspired by 1960s and '70s rock 'n' roll with a girly vibe, the collection for 2013 includes a versatile range that nearly any woman could find a little piece of herself in.
Born and raised in Motevideo, Uruguay, creative designer Fabiana Silberstein recognized her passion for fashion at an early age and attended Universidad de Palermo in Buenos Aires to explore that interest further. She brought her talent to the next level when she decided to continue her fashion design education at Miami International University of Art & Design, and things have excelled quickly since she graduated in 2011. With a desire to translate her personal street style to the beach and pool scene without compromising design for functionality, Silberstein hit the drawing board.
Her collection for 2013 highlights multi-print pieces, pops of color, and traditional polka dot patterns with retro-inspired silhouettes. Employing high-quality Italian and Spanish fabrics, Silberstein does her part in bringing back '50s-style swimwear with bustier tops, high-waisted bottoms and classic one-pieces— a welcome refreshment in a world of string bikinis and barely-there bottoms and bandeaus. Silberstein keeps her creations modern by adding contrasting details like wood buttons and smart color combinations. Feast your eyes upon all of the fun selections offered in La Belle Rebelle's first lookbook.