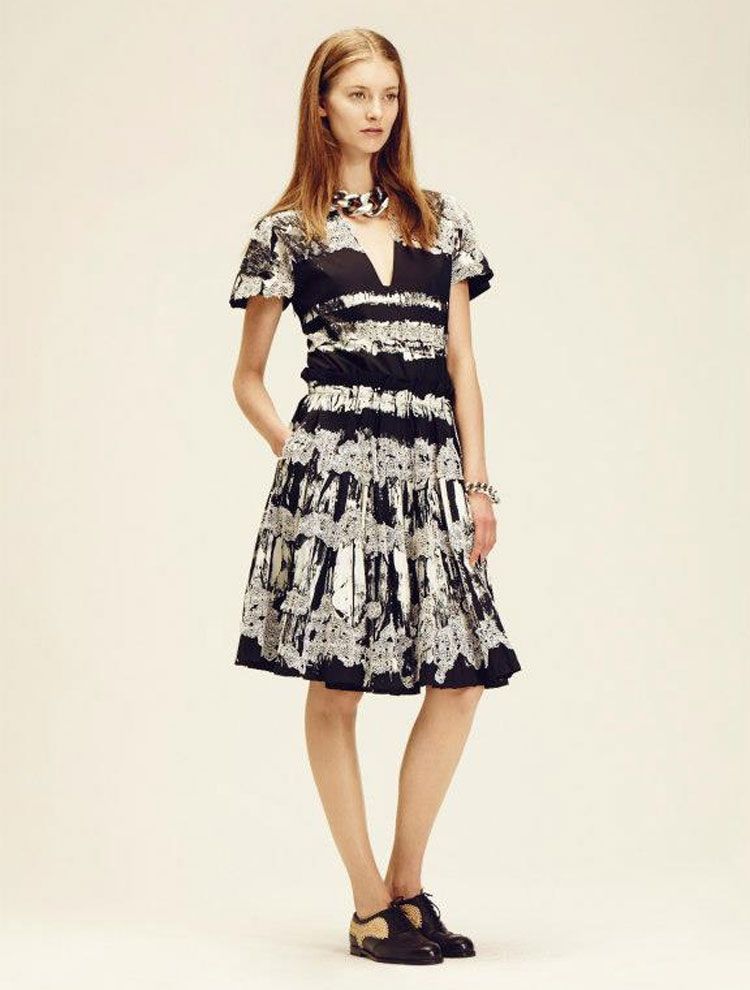 Photos Courtesy of Bottega Veneta
Every once in a while, a resort collection will come along that challenges the assumption of clean-cut pastels that have become typical— and expected— of cruise lines. This year, Bottega Veneta fits that bill with a selection of printed and patterned garments that speak to the brand's Italian roots. Founded in 1966 in Vicenza, the label began as a producer of leather goods but has since grown to include women's and men's ready-to-wear along with jewelry, furniture, and more.
Living up to its self-proclaimed qualities of outstanding craftsmanship, innovative design, and contemporary functionality, Bottega Veneta kicks off summer with a resort collection that will have you booking your tickets for a vacation worthy of these whimsical garments. Unlike most pre-spring lines that resemble stiff country club attire, Bottega Veneta's collection is comprised of breathable pieces that carry the air of summer. Block-printing, marbleized patterning and loose layers make for a worldly look that would be a standout on the cruise deck or a summer barbeque. At first some of the looks seem to carry a bit of tribal theme, but upon closer inspection one will notice the impeccable European detail and craftsmanship.
Take, for example, this black cotton poplin dress. The roomy sleeves combined with a knot at the waist scream effortlessly chic that would make for an easy and functional travel item. Other notable details in the collection include hand-cut lace, crochet overlay, and delicate embroidery. While some looks could work for either day or night, some pieces are clearly dressier for a special dinner or other event. Sheer black frocks are embroidered with beading and fringe to provide a more formal take on the collection's theme of airy elegance. Overall, the line has a number of suitable options for a last-minute getaway.