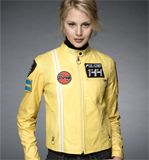 Luxury Apparel & Accessories:
Extreme rally-sport champion, Alexander Roy, introduces his new line of racing jackets, Polizei 144. The concept was launched after Roy outfitted his BMW M5 as a traditional German police car. Inspired by both new and vintage police uniforms, these jackets offer cutting-edge style while maintaining the luxuriousness of leather.
Men and women can flaunt their racing savvy and show off their fashion forwardness, too. Racing jackets can be customized with exotic pins, national emblems and patchwork. Each jacket comes with its own serial number, proving its authenticity.
Men's jacket variations include "Intercept," an off-white Chamois leather jacket; "Patrol," an all-weather jacket; "Speed," a cropped leather jacket available in blue, black or white; and Polizei's signature dark brown, "Recon."
Women can choose from the faux fur-lined bomber "Explorer," the cropped "Rapide," the yellow leather and nylon café jacket, "Scout," or the perforated leather scuba jacket with drawstring funnel neck, "Veloce."
Though German in design, these jackets appeal to a more universal crowd. Racing legend Sir Stirling Moss and Indy race car driver Alexis Fenton donned the jackets at the 2006 "Dressed to Kill" fashion show in both Los Angeles and New York. Polizei racing jackets have gained popularity as more and more fashion frontrunners are discovering the sophistication the brand has to offer. Polizei racing jackets have been spotted on the likes of Courtney Cox-Arquette and hubby David Arquette, Dave Navarro, Jonathan Rhys-Meyers, Jessica Biel, Jennifer Garner, and Chris Evans.
Until now, Polizei racing jackets have been available by appointment only. Racing jackets will run you anywhere from $650 to $950. To get your very own, check out www.polizei144.com.
For LxM Christina Stewart
Company:
Polizei 144
Business:
Racing Gear
Location:
New York, NY
Web site:
www.polizei144.com
Contact:
646-519-3575 /
info@polizei144.com