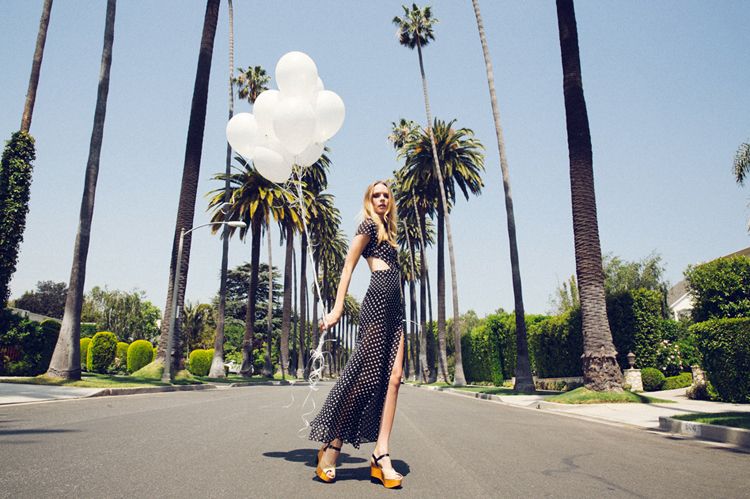 Photos Courtesy of Reformation
You drive your Prius hybrid, use your glass tumbler at Starbucks, and started a "Go Green" initiative at your office; you're doing your part to help the planet. But what about that stunning silk shirt and pencil skirt you've got on? How many gallons of water did that take to make? Environmental fashion brand,
Reformation
is taking that passion for saving the world, and bringing it to our closets. Realizing what the fashion world could be doing to the
environment
is going to help you make a more conscious decision when buying your new favorite dress. Plus, you'll feel better about what you're wearing when you're standing in line for that grande-soy-decaf-hazelnut macchiato.
Many fashion houses have been following the green movement, being environmentally conscious, using organic cotton and sustainable resources. Reformation is building on that idea and taking it a step further, using only surplus fabrics, reworked garments, and eco fabrics. Founded in 2009 by Ya-Ya's founder and designer Yael Aflalo, she wanted a brand that was going to help conserve the environment and give women clothes that were still sexy and in style.
The brand has three different collections all created in different ways to recycle, conserve, or rework clothes into their own products. That's three different ways you can help save the environment, or at the very least three ways to find your new favorite skirt.
Their surplus fabric collection utilizes the excess fabric from other brands that they are no longer using for the season and they create their own garments with it. Instead of tossing the excess remnants, Reformation will construct dresses, jumpers, or skirt, and these pieces are all brand new, never worn, and save the environment from the destruction of more material being produced.
In their reworked collection they go through vintage and second hand pieces looking for fabric, material, or patterns that are on trend before cutting and recreating them into something stylish and totally new. With this collection there are one-of-a-kind pieces and vintage looks you can't find anywhere—unless you want to sift through your grandmother's closet for a few hours and break out the sewing machine.
Their third collection uses eco-friendly materials including Lenzing viscose and
Tencel
. Created from raw wood materials and a closed loop system, Tencel uses less water to create, is 100% biodegradable, soft, absorbent, and cool.
So next time you're rinsing out your bottles to recycle be careful not to splash on your vintage, reworked, eco-friendly jumper. Reformation has surplus and one-of-a-kind pieces available online and at three boutiques across the country. Prices range from $48-$558.