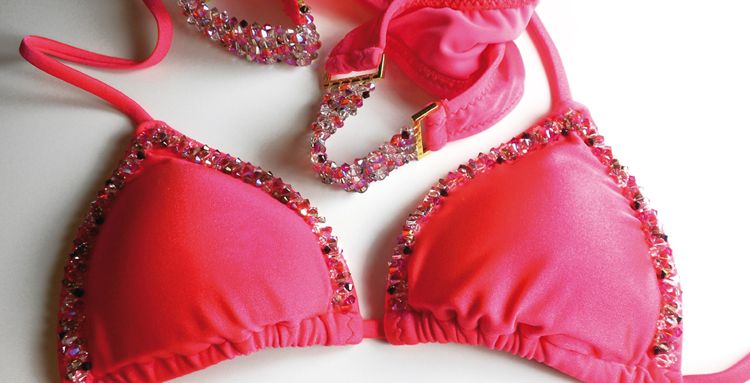 Photos Courtesy of Beach Candy
If you have ever hated summer for the simple fact that it was bikini season, you're not alone. Aside from rifling through racks to find something that will not only fit and flatter your body, you also want to keep in trend with the season. And besides, just because your best friend looks great in her new Mara Hoffman bikini doesn't mean you will too—which probably means more time wasted trying to find something you'll love. But for swimwear brand
Beach Candy
, that's half the fun. Creating custom designed suits with attention to detail and fit, the California based label has different silhouettes, fabrics and pounds of Swarovski "candy" crystals to cater to every body type.
Tapping into her southern California roots, the founder and designer of Beach Candy, simply known as Brit B., uses inspiration from her life and own love of swimwear to create her bespoke looks. After graduating from the
Pratt Institute of Design
in NYC with a B.A. in Fashion Design and Art History, Brit B. moved back to California and opened her boutique in Corona del Mar. Wanting to create the perfect fitting bikini for every woman, her aspiration was now "to make each and every woman feel comfortable and confident in her swimsuit." Creating different silhouettes for each customer allows her to manifest that dream into reality, giving each woman the opportunity to own perfect beachwear.
Beach Candy fabrics are specifically designed to fit and wear like a second skin. The shape of each piece is simple and timeless, the fashion being in the details: shirring, multi straps and Swarovski crystal beading gives each suit its sweet candy edge. While Beach Candy does have a full ready-to-wear line of swimwear available, Brit B. is not above ordering swatches, replicating old favorites or even coming up with an entirely new design for your perfect suit. As long as you feel sexy, comfortable (read: no back fat) and happy in your bathing suit, she knows she's done her job. If you want to take just a peak at what she has to offer in custom made designs you can browse fabrics and "candy" beading on her website.
Given the 2012 Editor's Pick of the Sports Illustrated Swim Suit Edition and worn by celebrity and reality show stars, Beach Candy is gaining an audience with beach goers everywhere.
Beach Candy is available exclusively on their website and in their Corona del Mar location. Ready-to-wear separates are priced $72-$326. Custom made pieces are priced upon request.