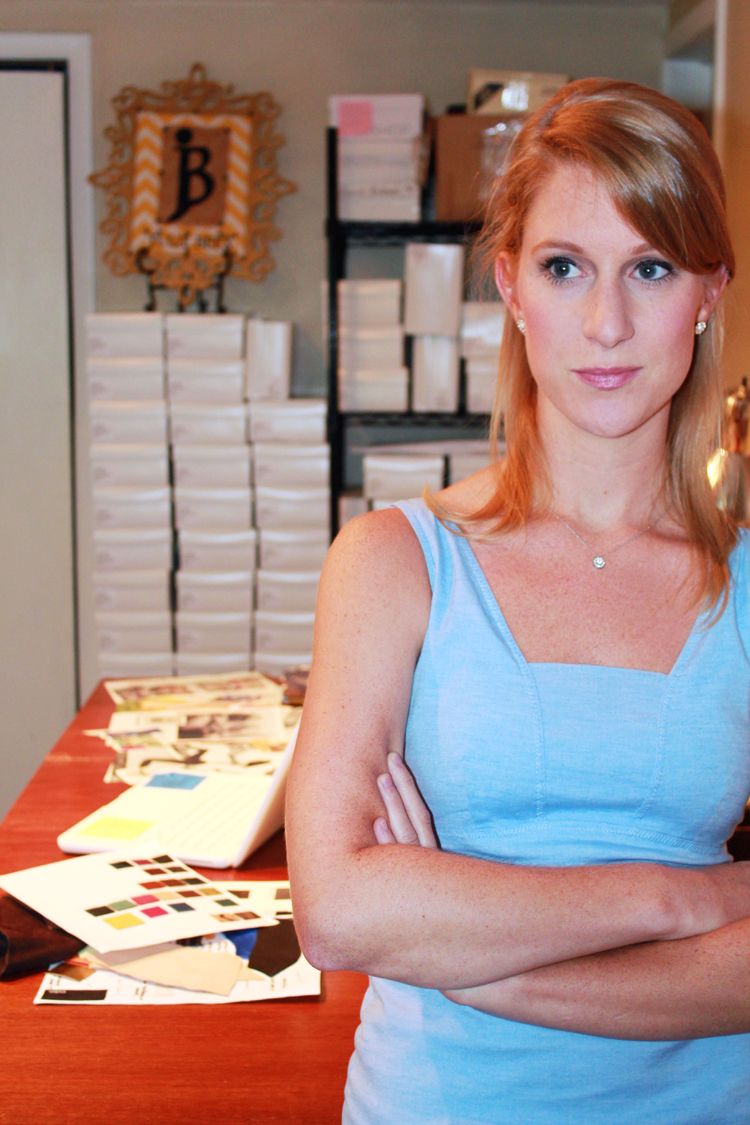 Photos Courtesy of Julie Bee's Shoes
In a world of eco-jewelry, reworked leathers, organic cotton and recycled tees, we're easily able to do double duty and save the environment while also looking snazzy. We can rock our conflict-free diamonds and know that from our head to our toes we're saving the world. Except some of those shoes may not be the cutest, most comfortable or anything you want to be caught dead in. Why, with brands like Reformation giving us hot eco-friendly clothes, Matt & Nat giving us vegan handbags and accessories, and more organic cosmetics than we can fit in our makeup bag, are we stuck with TOMS? Don't get me wrong, they're the most comfortable shoes in the world, but we're not wearing those to work. While on the mission to find the ever-elusive sustainable, yet stylish pump, Julie Brown decided none of them would fit her fashion forward lifestyle—so she created her own.
Starting her career in homeland security, she wanted to lead an environmentally sustainable life, from the car she drove to the shoes on her feet. While the search for an eco-friendly car may prove simple, finding the same for your wardrobe is easier said than done. "I found that there were a lot of 'crunchy granola' shoes available," she recalls, and absolutely none of these were suited to her needs or taste. Realizing the market didn't have what she was looking for, she decided to fill the hole with her own brand,
Julie Bee's Shoes
. Finding herself starting a business with no experience, she did what any 21st century woman would do—she networked. "I really used my network to provide guidance to me in the areas I wasn't a subject matter expert in—I also knew it was important to build a very strong team, to surround myself with mentors and a team that I would need on a daily basis. Without them, Julie Bee's would not be where it is today."
Hoping that sustainable fashion is the way of the future, Brown has high expectations for not only her brand, but for women in general. "I think the general population is going to demand that brands have to be held accountable," she says, adding that they will have to work on improving themselves if they want "to be a better company—to be better stewards of the world." It's easy to see in the last five years alone that the amount of organic and sustainable brands have grown rapidly in both fashion and beauty, but we still have a ways to go and Brown is excited for her line to make an impact. "I would love us to be there on the forefront of that movement."
Far from the "crunchy granola shoes" that lead her down the path of designer and entrepreneur, Julie Bee's Shoes are fun, colorful and fashionable. These shoes are made with comfortable heel heights, cushioned foot beds, and still have that luxe-Italian leather that makes you want to Instagram your new flats. Inspired and named after women in cities across the states, each design is meant to represent "their personality and also the vibe of the city." A big supporter of the American economy and smaller businesses, Brown makes it a point to have all of her shoes handcrafted in the U.S.
Using remnant and vintage fabrics, the shoes are made for stylish environmentally-conscious women. For production they use "vintage pieces that we will pull from different leather warehouses across the country," Brown says. "We also incorporate some organic cotton into the collection, more so in the spring than the fall—obviously." With goals of being sustainable shoe front-runners, she is also hoping to one day be able to change standards in the creation of material, so even brands that aren't eco-friendly will be able to use better components. The rarity of her vintage and reclaimed fabrics only add to the shoe's appeal; it "provides uniqueness to a shoe that only has so many runs, and once it's gone it's gone. That provides a great feature of a shoe, knowing that you may be one of the only people wearing that shoe."
While Brown is focusing on footwear for now, she has no limits to what she wants her brand to incorporate, and after bringing her shoes to a bigger market, accessories may follow. Until then she's grateful to launch her shoe brand and get feedback from real women who are glad to have found sustainable style for their feet. And even if you haven't found the right environmentally-friendly wardrobe for you, don't give up. "You can be eco-conscious, but also very stylish—you don't have to sacrifice one for the other," says Brown.
Julie Bee's shoes are available online and in select boutiques nationwide. Priced from $295-$350.