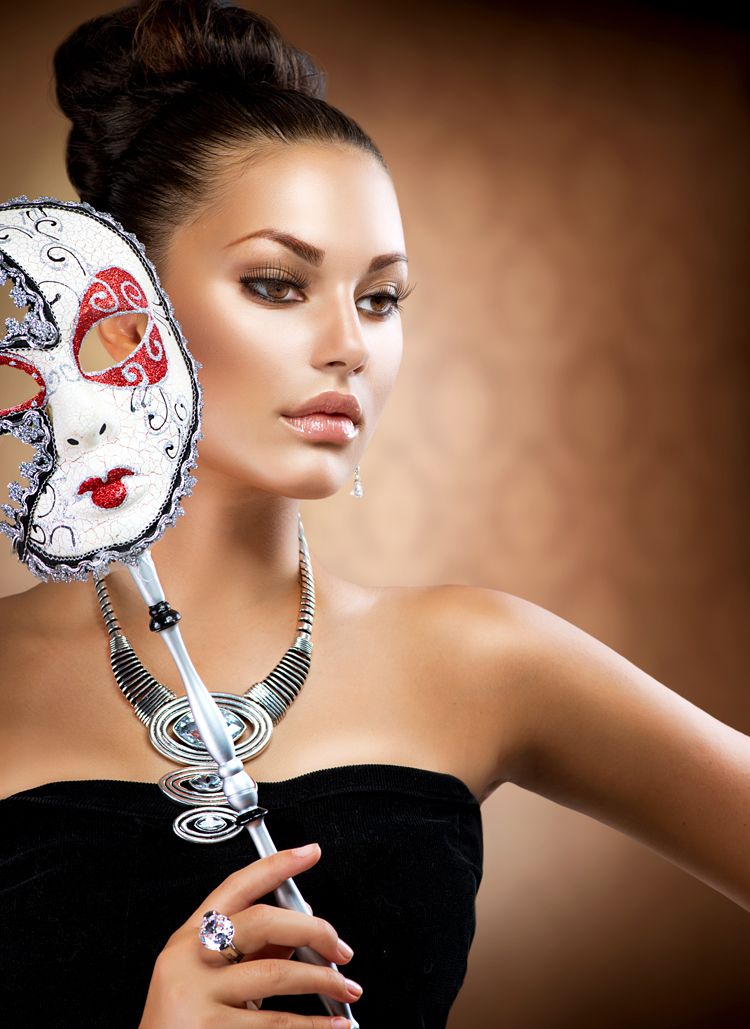 Photo Courtesy of Shutterstock
With Halloween a little over a week away there's a last minute hustle for luxury costumes, wigs and every sort of body paint you can imagine—but what if you prefer not to go down to the makeshift costume store and scour through bins looking for a beautiful getup? Besides, do you really want to go as Miley Cyrus, a "sexy pirate" or Disney princess? Okay, maybe the last one, but for Halloween parties something beautiful, elegant and not fished from the remnants of our closets would better suit our tastes. Some of the most beautiful and astounding costumes can be seen at elegant masquerades and galas—complete with ball gowns, glass slippers and decorated masks. If you want a chic Halloween outfit look no further as we're featuring some of the most beautiful and luxurious masks for your party.
Photo Courtesy of Masque Boutique
Swarovski Crystal White Swan
This Swarovski crystal white swan mask, is beautiful way to make an entrance and looks much better than many last minute costumes. Decorated with beaded lace, ostrich, coque and marabou feathers, a diamanite swan, and covered in Swarovski crystals it also comes with back ties to secure it or may be used with a wooden stick. The white swan is limited edition and as of right now only two have been made. Available at Masque Boutique and priced at £165 (approx. $268).
Photo Courtesy of Mask Italia via Facebook
Luna Lux
While a simple eye mask can greatly improve the look of your costume, a full face mask is literally a costume in itself. This Luna Lux mask is one of the most ornamental pieces we've come across and is crafted from laser cut metal and multi-colored Austrian crystals. And while you can't literally be the moon, it's okay, because you'll look even better. Available at Mask Italia and priced at $2,100.
Photo Courtesy of Magical Masquerade
Luxury Venetian Autumn
One of a four piece collection, the Autumn mask is handcrafted in Italy, coated in a golden sheen and covered with Swarovski crystals. The left side is fixed with metal filigree and stain glass patterns, while the right is decorated with seasonal leaves and flora. While this mask is beautiful, it's hard to ignore the other pieces in the seasonal collection. If you're not partial to autumn, or are perhaps celebrating another affair, each season—summer, winter, spring—has a different pattern and color palette. Available at Magical Masquerade and priced at £899.00 (approx. $1,459).
Photo Courtesy of Simply Masquarade via Facebook
Swan Lux Filigree Venetian Masquerade
Without the use of large feathers or sparkling accoutrements, metalwork on a mask can display some of the most delicate and detailed designs that masks have to offer. The Swan Lux Filigree Venetian mask is crafted from laser-cut steel, laced with clear crystals and has a gold base with overlaying swirls. The detail is reason enough to add it to your collection, not to mention it will last for many Halloweens to come. Available at Simply Masquarade and priced at £99.99 (approx. $162).
Photo Courtesy of Magical Masquerade
Luxury Venetian Duchessa
For the best in unreserved opulence the Duchessa mask is one of the most breathtaking pieces of artwork that will ever rest on your face. Made in Italy this mask is painted, shaped and decorated all by hand from the smallest placement of glitter to the bending of the metal filigree for the mask's mask. Swarovski crystals of varying sizes adorn the entire headpiece and hanging tassels of Italian silk make this mask something you'll want to display year-round. Available at Magical Masquerade and priced at £1,600 (approx. $2,597).