Marissa Stempien View Profile

Fashion Editor | JustLuxe.com
Hunter & Gatti Talk Fashion, Celebrities, and What Makes True Art
Dec. 13th, 2013 | Comments 1 | Make a Comment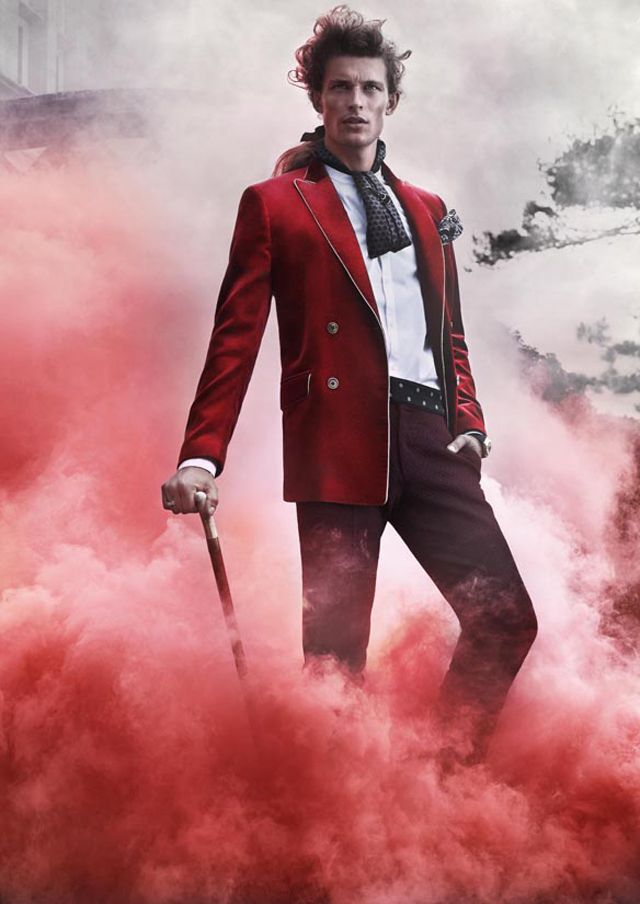 Photos Courtesy of Hunter & Gatti
At 10 o'clock at night in Spain, photographer Cristian Borillo, half of the creative duo Hunter & Gatti, sat down to talk with JustLuxe about their work in the fashion industry. For a man that's had such a long and successful career he's surprisingly modest, and more passionate about photography as an art form than the list of famous clientele he's shot, or the designer labels he's worked with. Despite the late hour he's extremely animated and enthusiastic to talk about his images, his favorite spreads and what it's like working with some of the biggest names in the business.
HG Issue With Alla K & Shaun De Wet
Cristian Borillo and Martin Cespedes, better known as the photographer team Hunter & Gatti, started off over 10 years ago as art directors in New York, working for some of the top advertising agencies in the city. Dedicated to offering some of the best campaigns to brands like Burberry and Diesel, they spent their time creating artistic visions that they saw continuously picked apart by photographers during every shoot. "That's why we switched to photography," Borillo explained. "To do exactly what we were thinking about." Noting that advertisers, producers and brands have a large influence in direction, in the end the photographers are the ones making the final creative decisions. While it might sound like a power trip, he assures us they only want to be true to their artistry. "More than control it's to be sure that all the ideas you made before arriving to the shoot are done."
Identity With Bill Gentle
With all that creative energy and a clear passion for their work, a functional partnership might sound impossible or even detrimental to flourishing talent, but Borillo assures us that it's quite the opposite. They're so in sync that they'll edit the same images, make similar changes and delete the same content before consolidating their ideas. "We know each other perfectly—looking at each other we know exactly what we're thinking about. And that helps a lot," he said. And they never hit a set without the other; they are a complete team. "It's very organic. We're both always there. For example Martin might be taking care of the lights while I'm talking to the model. We're changing roles all the time."
Flaunt Magazine With Viktoriya Sasonkina
Photographers might have the most creative pull, but they still need to show restraint, and some labels, he suggests, are a little more stringent on how inventive they can actually be. Without suggesting anyone in particular, he alludes that some high-fashion designers are unwilling to be flexible. "A really commercial work, usually something more classy, these people don't want to take risks," he explained. While reigning in their ideas can be frustrating, he explains that in the end it will always balance out. "Sometimes really commercial works at the end are amazing works, no? And sometimes editorial works with a magazine—it's crap."
Jenson Buton For Hugo Boss
When given control over a campaign's films or photography, they prefer to try something new and different, and design a piece that will be as impactful as it is innovative. Borillo explained that they had recently finished filming a short for a brand that left them at the helm. "Instead of trying to do a fashion movie, we tried to make like a short movie, usually fashion movies are boring, but we tried to make something close to a suspense movie in the middle of the desert," he said. As he excitedly explained the details of the fake rain, the extensive crew and direction of the shoot it became clear that this was a man that had found his true passion.
Gertrud Hegelund in Series N2-03
Hunter & Gatti are not limited to glittery images and stylized shoots—as much love as they have for the world of fashion there's almost an underlying backlash against everything that's it has come to represent. The pretentiousness and commercialism of the industry led them to try their hand in a more artistic direction, and make paintings from their photography. A selection of the series was introduced last weekend during Art Basel, and gave a new life to the fleeting imagery of fashion spreads. "What we are doing now with this exhibition with painting over, is to sometimes try to get something that the original picture doesn't have," Borillo explained. "We're working for fashion, everyone's trying to sell clothes, no? That's why when you're shooting nice, but commercial pictures—they're boring as commercial pictures! What we're trying right now [is] to get them a second life, try to make them more emotional, try to make you feel something." When asked what the restructured images were meant to convey he responded that it was not a definitive interpretation they were after. "We're not looking for a specific meaning; it's just looking to make you feel something. That's enough for us. If you can make someone stop there and feel something it's enough—that's a great job."
Flaunt Magazine With Ziyi Zhang
But finding this creativity on set is easier said than done. "Sometimes it's not important if it's a commercial work, if it's an editorial—in the end it's about the idea, about the feedback that you have with the people that will be involved in the project," he said. "Maybe we have a bad hairdresser and at the end the campaign is nothing, you know?" Not naming any names, of course. While a crew member may have rocked the boat on a few occasions, other times things fall magically into place. Shooting Chinese actress Ziyi Zhang (Crouching Tiger, Hidden Dragon; Memoirs of a Geisha fame), was one of those perfect moments. "With a hour and a half that we were not expecting anything [to come from], we made great pictures. Some of them are really special for us and in fact one of the paint series that we've done we made with these pictures."
Flaunt Magazine With Douglas Booth
Working with supermodels, movie stars and recording artists doesn't seem to faze the duo, and Borillo is adamant that a bigger name does not make a better picture. "We have great shoots with people that are not really important, and we have shoots that are okay with people that are really important. At the end it's come with the idea and if the spark is good it doesn't matter." But that begs the question, who would be the dream model to photograph? Most people in the fashion industry immediately reply their fantasy client is this A-lister, or that trendsetter, and it seems more than a few people love Anne Hathaway, but the guys of Hunter & Gatti are not so star-struck. "I can tell you Lady Gaga now because she's everywhere and [in] one year and a half, Lady Gaga is nobody, you know? For us it has no sense to think about names—enjoy and challenge yourself; it's more about what will happen next than this name or that name," he said.
Vogue Spain Jewelry
But even with all that raw talent, inspiration for these spreads and campaigns has to come from somewhere. "It's amazing, as soon as we start thinking about editorial, commercial work or a video, if you're in front of the computer trying to find something it's difficult," Borillo explained. "In the end inspiration can arrive from a movie, from a book that you have at home, or taking a walk down the street and looking at someone, no? At the end you need to be open." And it's this observation and appreciation for the things around them that allow the team to come up with such artistic and powerful images. He adds, "We are watching, no? We are voyeurs of life—inspiration comes from there. A spark can inspire a whole idea."
Esquire Spain With Andres Velencoso
With over a decade in the industry and displaying such a tight hold on their own creativity in the field, one would assume they hope their visions make some type of impression. But for Borillo and Cespedes it's not so much about the notoriety as it is about their own self-discovery. "We're not trying to influence any point of view. We're trying to improve ourselves with every single shot," he said. "More than being influential, try to enjoy what you're doing […] and that's the way to try to find your own way—and who knows if we will influence [fashion]." He described each shoot as a learning experience, as a way to draw from the people around him and to be open to new ideas. Each model has something that is special and meaningful about them, and their job is to capture that spark on film. He adds, "Time will tell if someone is really influential in some way. We're not trying to be pretentious—we're trying to enjoy what we're doing."
Bruno Mars, a Portrait
Finding the best in luxury can be a daunting task, which is why we've taken it on for you.