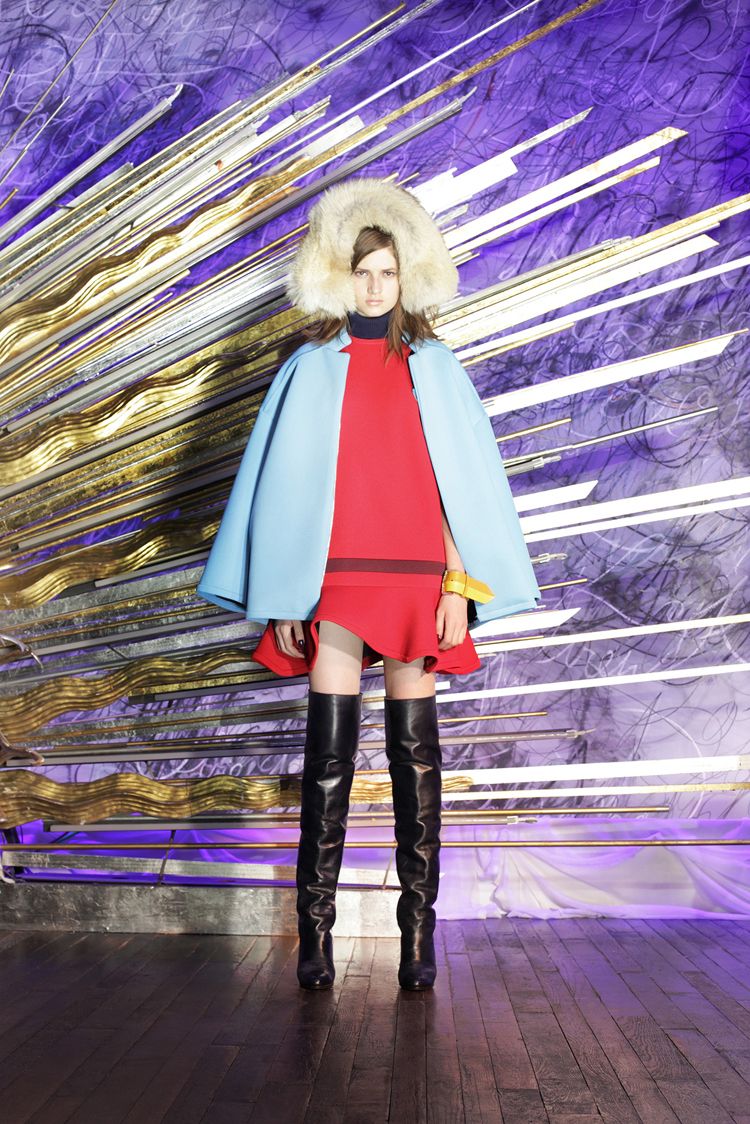 Photos Courtesy of Cynthia Rowley
For Cynthia Rowley's Fall 2014 presentation, one of the first things we noticed was an intense presence of color—and we're not talking about that hideous backsplash either. Today at New York Fashion Week, Rowley showcased her new collection of women's ready-to-wear—a line of mismatched shapes, '60s throwbacks and bright pops of color that make us feel like we could drag summer out all winter long. Broken up into both a day and night line, we could see ourselves grabbing a couple key pieces of each, but paired together, it was just sort of—boring.
It isn't a particularly standout collection—nor was it styled in a way that made us need to have it immediately, but there were a few pieces that played with shape and structure that made us take notice. Trumpet hemlines and boxy shoulders give the line a modern feel while small additions of fur, leather and prints add a little style to otherwise basic looks.
The day pieces consist mostly of brightly colored sweaters, skirts and jackets paired with accents of black—most consistently a pair of thigh-high leather boots. Short hemlines and looser cuts make it look youthful, but at the same time it almost mirrors an H&M catalog, and we've come to expect a little more of Rowley. Unexpected shades such as tomato red and baby blue were styled together and large buckle bracelets in various hues were worn with each look to add a larger color spectrum to the collection.
In direct contrast, the evening collection was black with bright pops of colors in prints, accessories and peeks of underlying layers. Different textures were styled together in ways that either worked well or fell flat. The silhouettes on the evening pieces are decidedly more feminine than then the day line, and surprising elements such as thigh high slits, shirttail cuts and precise layering add depth to the collection.
We could see ourselves wearing a few pieces here, assuming of course, that we're allowed to restyle them and can ditch the other half of the look. It's a big jump from Rowley's last collection that consisted of sweet, feminine colors and floral prints, but for the most part it worked. And we're just going to totally ignore the rainbow dress that looks like the model was covered in super glue then went rolling in the craft bin—just—no.