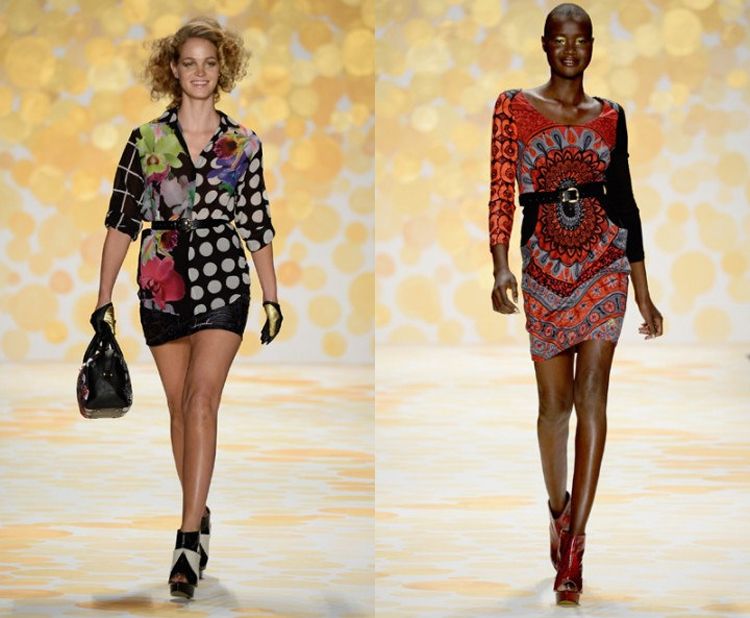 Photos Courtesy of Desigual
We're pretty sure we just found where all the color at New York Fashion Week went. Desigual went overboard (as per the norm) with their Fall 2014 collection that pretty much takes the cake as far as color, patterns and OMG-what-are-you-wearing goes. If you're a fan of blindingly bright shades, gaudy prints and a hodge-podge of hues that make you seem color-blind—you're in luck—we've got a line you'll love.
First let's talk direction—um, sort of direction. A little consistency couldn't hurt, especially if your brand is known for going wild in the remnants bin at the fabric store. We did find a few polka dots that seemed to make their way through the collection and we clung to those spheres to navigate our way through the lineup. Used on mod dresses, sweaters and button-up shirts, this circular motif was about the only thing we could find to connect face-printed tees and Twiggy-style frocks.
The lack of symmetry was kind of awesome in a way that felt like we'd rediscovered the asymmetrical-cut skirt. Who said the right side of your shirt had to match the left? Nobody. And that goes for the floral prints thrown on top of polka dots and tribal patterns paired with lace. The up side to what at first glance seems like a sartorial disaster, is that one piece by Desigual will give your outfit more pop, pizzaz and attention than half the Versace runway.
Now if these pictures aren't enough for you to swear off the brand, then we have to offer our congratulations: you're sticking to your fashion guns. Personally, we may not be fans of the collection, but we can appreciate a designer that likes to think outside the box and have a little fun. And notice the smiles on those models? Maybe that's the happiness that comes from breaking fashion rules.