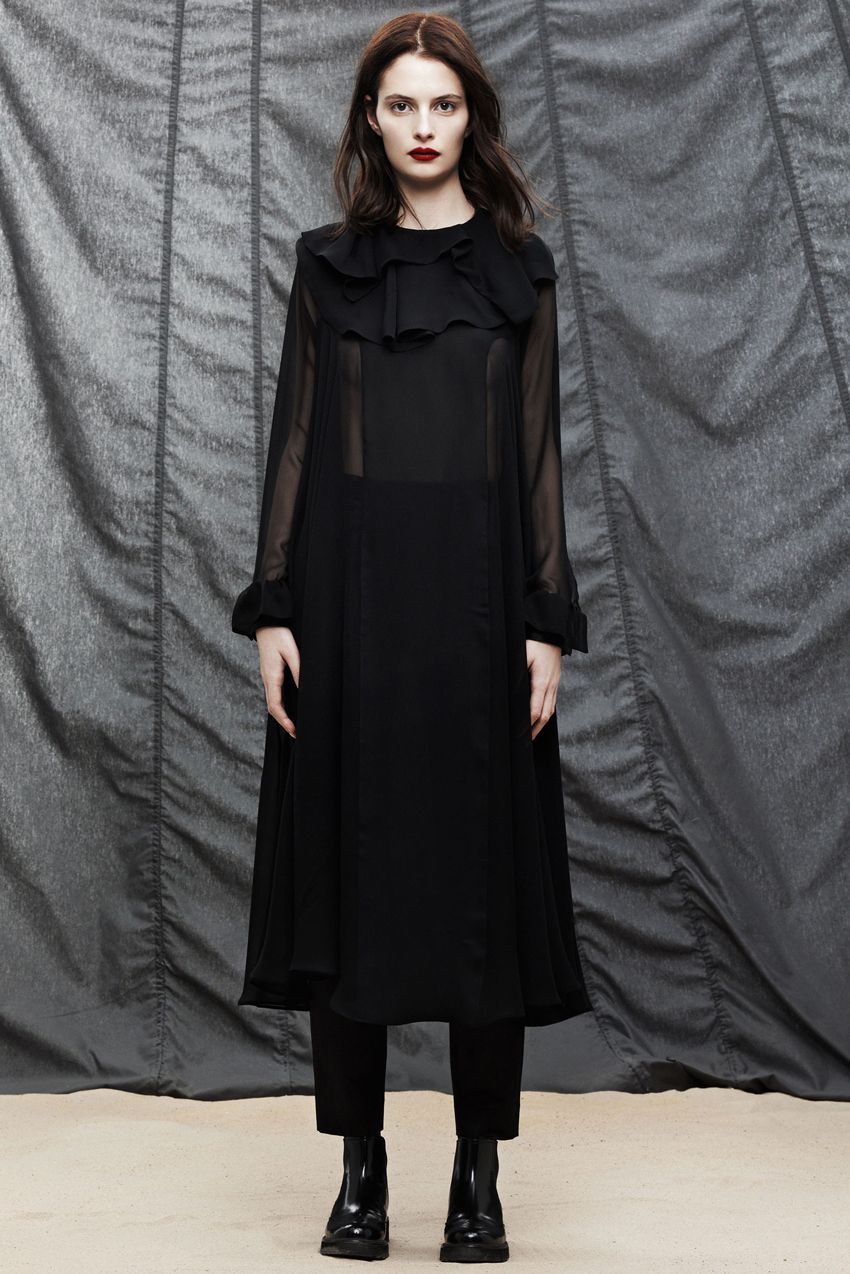 Photos Courtesy of Araks
Do we even need to watch the rest of New York Fashion Week? Probably not, as we're pretty sure we just found our winner. Araks presented their Fall 2014 collection which consisted of midi-skirts, comfortable separates and just the right amount of color to make all of our sartorial dreams come true. We'll take three of everything.
The collection isn't particularly phenomenal, there are no crystals or leather crop tops, but what it lacks in attention-grabbing excess it makes up for with understated perfection. Sheer dresses, feminine shapes and on-trend structure help make almost every piece a wearable and invaluable part of your wardrobe. Versatile separates are simple enough to be styled with anything in your closet and can be dressed up as a statement piece or down as a basic.
An updated take on peplum and midi skirts (that don't make us look three sizes bigger) as well as oversized silhouettes, give what could have very easily been a run-of-the-mill ladies collection, a little kick in the pants. Do we need frumpy black dresses? No. Do we need frumpy black dresses with giant bows? Yes, please. In terms of structure this brand seems to have grown since Spring 2014, and we're hoping it will continue getting better.
Can we talk about this color? Lack of color? Whatever you'd like to call it we're digging the black and grey with sudden pops of magenta, plum and pink. A palate that at first glance seems black, is in actuality a range of deep burgundy, hunter green or navy blue. And it takes true talent to blend black and hot pink without looking like an Avril Lavigne knockoff. The addition of metallics keeps the trend that was so popular on the runways last season, going through into fall.
We'll admit there are probably collections that will garner bigger praise and make our hearts burn with a need for some ridiculous fur and metallic tank top that will be all the rage come August. But there's something about trendy twists on classics that make us want to keep these pieces in our closets forever.