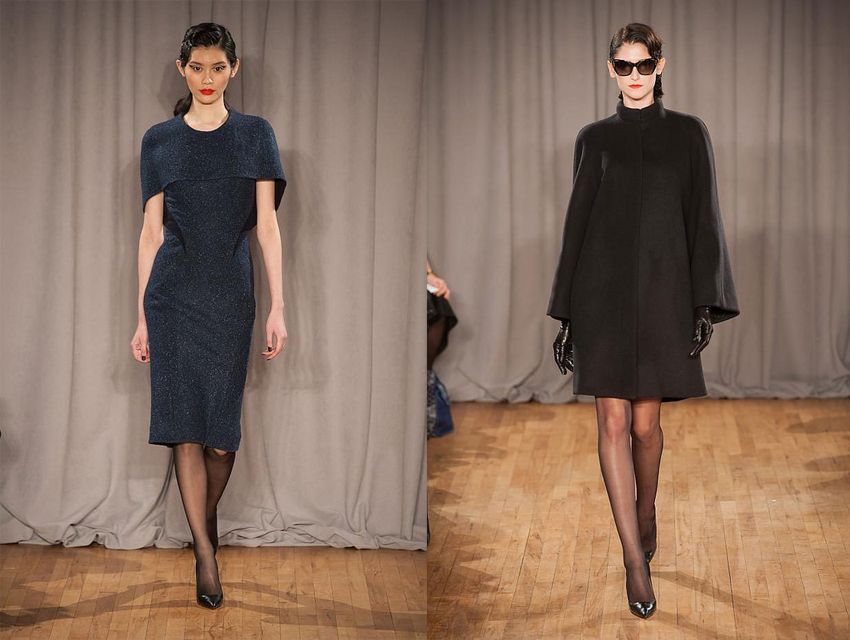 Photos Courtesy of Zac Posen
Apparently no one told Zac Posen this was a runway show and not a red carpet event—but we are totally okay with that. Monday during New York Fashion Week, he presented his Fall 2014 collection: a line of floor-length ball gowns, vintage-inspired party dresses and some of the sexiest suits you would ever dare to get away with at work. It was a throwback to some of the best tailoring and lines that really showed the genius of Zac Posen.
"Clean drama. No ruffles, no flounces — everything has a reason and a purpose," Posen told WWD, and we can't help but agree. While he is known for his glamour and gowns, he gave this collection a soft touch, using the garment's structure and shape to display its beauty, rather that jumping on current trends. Cutouts, embellishments, and glittery metallics were all missing from the collection, making it seem as timeless as Chanel's little black dress.
But then you don't really need all the bits and baubles when your dress has silhouettes like these. From sleek, slim cuts to body-engulfing princess puffs, the dresses were immaculately structured; some strapless gowns offer an architectural bodice, while slimmer dresses have capes and trains. Basically if you're going to any event where you need to be seen and noticed, you can choose any piece from the collection.
The vintage interpretations are more literal than conceptual with lengths, cuts and even model's hair and makeup mimicking the style of eras long gone by. We loved the angular skirt suits and chic day dresses, but what really cinched the collection as one of the best was the evening wear. As a whole, the lineup was as classy as an episode of Mad Men, and it seemed that no one could leave the show without gushing about how amazing it was. Lucky Magazine's Editor-In-Chief, Eva Chen posted on Instagram, "Dear celebrities: I found the perfect Oscars dress for you @ZacPosenStudio. You're welcome." Keep it up Zac, keep it up.