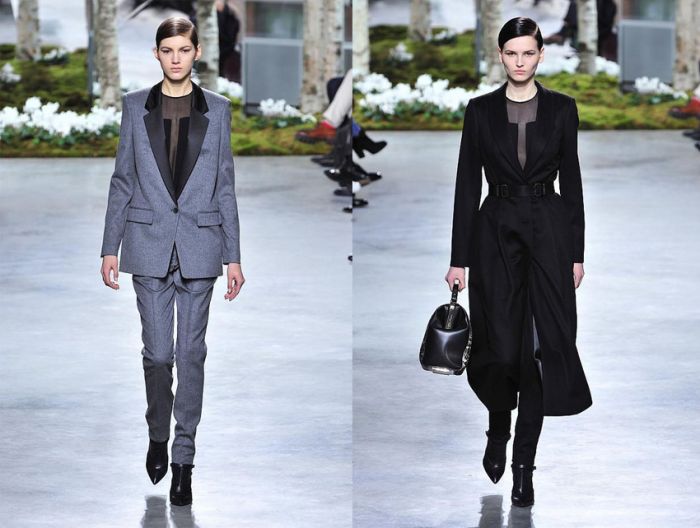 Photos Courtesy of Hugo Boss
Jason Wu premiered his inaugural collection at Hugo Boss yesterday during New York Fashion Week. The Fall 2014 collection is the first women's runway show for the brand and Wu since his hiring last spring as the new artistic director of womenswear. Focusing on the brands iconic tailoring and classic detailing, his job was to find a healthy medium between the two and discover a way to add femininity to a brand that's largely menswear. He presented a surprisingly beautiful collection—simple and basic—even if it was a little heavy handed on its interpretation of menswear for women.
The monochromatic colors worked well for this collection, drawing more of the focus onto the precise tailoring and cut of each piece. Sleek collars, belts and lines helped to accent a feminine silhouette rather than take away from it or mimic menswear too closely. Suits, coats and dresses that (for some strange reason) wore like suits, were cut loosely to flatter the figure, but not make it a focal point.
Small patterns, sequins and texture were enough to give the collection a little variation and character. It was restrained in a way that felt purposeful and distinct, and focused on trends in passing—a glimmer of sparkle, a sheer panel, or almost imperceptible pleats. The collection, while simple, was filled with textures that included pairings of fur, leather, tulle, sequins and embroidery. The use of hidden closures allowed even multi-texturized pieces to look simplified.
"The first order of business was to get into the DNA of the brand," Wu told Style.com. "At their technical facilities, they have every kind of machine, including a shirt-folding machine. That precision, that rigor needed to be expressed, but in a feminine way. It needs to be authentic." And we can see the painstaking steps he took to make sure this marriage was beautiful and exact, but there were pieces that showed this connection a little too literally. Dresses made of woolen suiting looked more appropriate for a dull boardroom meeting than a Fashion Week runway.
Tossing those few hiccups aside, the collection was clearly meticulously planned and well executed. The celebrity-filled front row that held names like Reese Witherspoon, Benedict Cumberbatch, Gerard Butler, Diane Kruger and Gwyneth Paltrow even gave him a standing ovation at the end of the show, which basically negates anything any fashion editor could have to say about the collection. If the celebrities love you—you're golden.