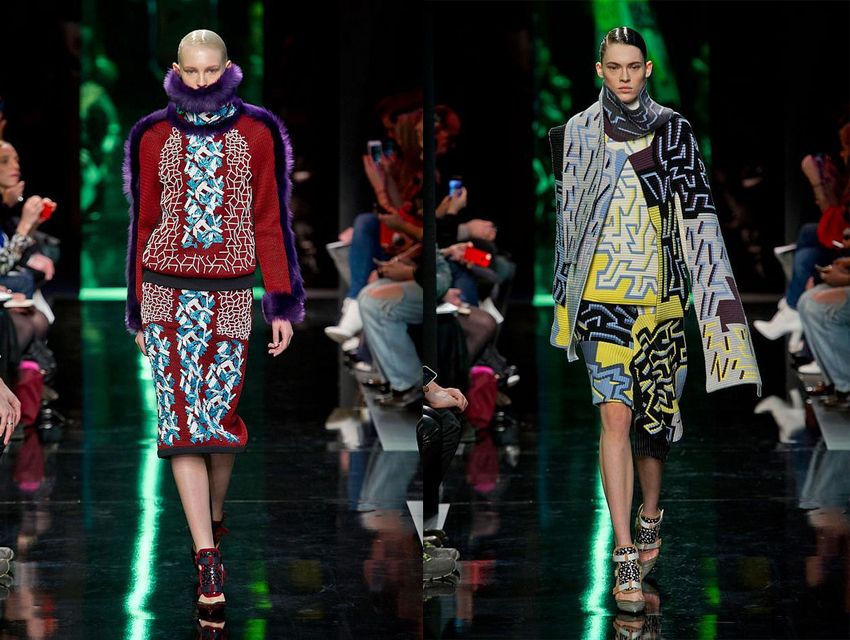 Photos Courtesy of Peter Pilotto
Yesterday during London Fashion Week, the Peter Pilotto Fall 2014 collection came down the runway in the usual explosion of colors, but this collection broke away from past seasons in terms of structure. Gone are the harsh angles and the exaggerated silhouettes, instead there are—wait for it—basic shapes. Gasp. Fans of the line, may have been a little taken aback by the sudden casualness of it all, but that eclectic personality still burned bright with the use of colored fur, beaded embroidery and those iconic, trippy prints.
Since designers Peter Pilotto and Christopher De Vos have never, and likely will never, have just a few colors in their collection, the direction of the season is based entirely upon hue. A slightly darker, more saturated palette went down the runway yesterday, filled with rich burgundy, cobalt and orange, some in clashing prints and others in complimentary color blocking. And even though we're personally not big fans of neon yellow and orange together, we have to admit, on this runway, it kind of works.
While this collection doesn't have the same structure as previous lines, there is added shape through the use of black trim and blocked patterns as well as dimensional graphics and lines. There are a few pieces that are very angular, helping to connect past collections with the current season, but for the most part silhouettes are relaxed with a large selection of shift dresses, pencil skirts, faux wrap dresses and sweaters.
This might not be our favorite Peter Pilotto collection, but it's by far the most user friendly. Versatile ribbed knits and mini dresses make this season's pieces wearable to more places than fashion week or a street style photo shoot. And despite the collection having a more serious attitude than those that came before it, it still has more personality than anything else we've seen on the London Fashion Week runways.