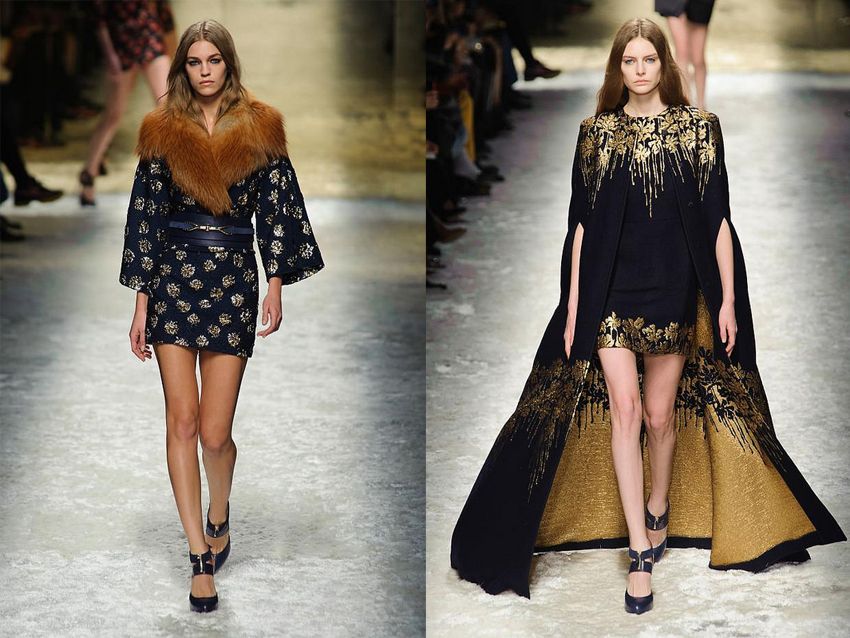 Photos Courtesy of Blumarine
We immediately take back anything we said about not having a favorite show during Milan Fashion Week. Today's Blumarine Fall 2014 runway was filled with Asian inspired cuts, prints and more gold than Midas could handle—it was basically perfect. It's a visually impactful collection with trends throughout, bringing it to the brink of statement pieces without teetering over into tacky territory. Okay, maybe it is a tiny bit tacky (there are gold lamé suits) but it's done so beautifully, we don't even care.
Inspiration from the Far East includes kimono style dresses, hanging wisteria, and floral jacquard that is done subtly in a cooler color palette. Far from the looks of the L'Wren Scott Spring 2014 collection, which was also filled with Japanese influences, the Blumarine lineup is interpreting these styles into a very modern and wearable collection. Printed origami skirts are paired with solid colors to minimize their impact, while coats and jackets are stitched with obi belt patterns in matching colors for just a hint of Asian aesthetic.
The colors in the collection were rich—royal blue, deep emerald green and shimmering gold—all of which looked more luxurious in satins, leather, lamé and jacquard. Aside from a few pops of red as an accent color, designer Anna Molinari largely stayed away from the hue which, when paired with traditional Asian elements, can easily boarder on kitsch.
We loved the incorporation of black leather, which blended effortlessly with the largely metallic collection, making itself seem like a base note for all the shimmer, patterns and fabrics on the runway. Furs played a large part in the lineup in short jackets, long coats and dress trim in a brilliant array of colors, with one blue coat in particular giving us an excellent reason to embrace the winter. The only piece we weren't a fan of was the off-color purple leather jumpsuit that looked oddly out of place.
The shorter, fur-trimmed dresses are perfect for transitioning between seasons when you can think of nothing but spring, but the weather outside is being disagreeable. Personally, we'd make room in our closet for the entire collection (sans the purple flight suit) year-round, but we're sort of suckers for anything ultra-luxe.