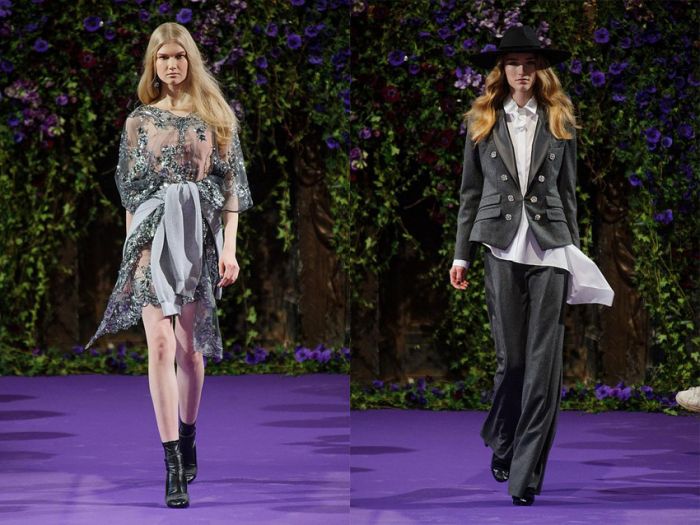 Photos Courtesy of Alexis Mabille
The Alexis Mabille Fall 2014 show during Paris Fashion Week today left us a little confused, but totally in love. There was a lot going on, most of which were statement fabrics paired together like floral, lace and plaid—not a normal combo. But everything was very feminine, even plaid that has been so consistently thrown into grungy '90s throwback ensembles was treated to delicate shapes and softer detailing. Giant hats showed up again (thanks, Pharrell), but ignore those and the rest of the collection was a fashion-lover's dream.
The pieces that came down the runway were sculptural, feminine and had that perfect day-to-night transitional look going for them. Lace was used on both heavier pieces, like sweaters and jackets, as well as a sheer overlay on dresses, pants and skirts. The texture gave an added element of delicateness to pantsuits and sweatshirts transforming them into lighter, more romantic pieces. Plaid was used as lining or in very loose, flowing garments, making its use seem more traditional.
It was clearly a blend of sophistication and sportswear, but elements of steampunk styling and Victorian detailing found its way into the collection. Small bowties held fast around collars, booties featured spat detailing and coats were voluminous and angular. It was done in a light-handed way that allowed it to seem modern rather than costume-y—though we can't really vouch for its compatibility with the pieces currently in your closet.
The color palette went between both light and dark hues, but never felt weighed down or like a distinctly winter collection. Pale pink, lavender, silver, grey, navy, black and brown worked well together to make the line feminine, while at the same time, pulled away from preconceived notions of what function those shades play in cold weather wardrobes.
Personally, we want half this collection now, not next fall. That seems like a hell of a long time to wait for these statement coats and perfect day to night pieces. The most exceptional thing about the collection is the character and individuality it shows—we haven't seen anything to rival it during all of fashion month. It's unique, not necessarily in its color scheme or blending of textiles and patterns, but in its successful execution.