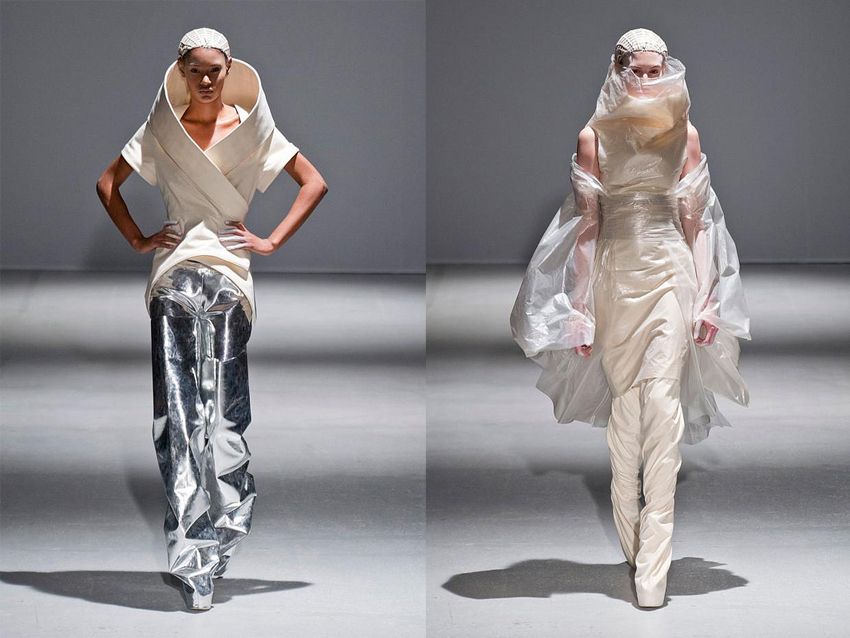 Photos Courtesy of Gareth Pugh
Gareth Pugh doesn't do ready-to-wear. His Fall 2014 collection during Paris Fashion Week was an escape from the confines of a "ready-to-wear collection"; a highly ambitious lineup of angles, fabrics and shapes, but what it was he was trying to convey—we're not really sure. It is clear sculpture is playing a major role, but beyond that (and the solid color palette), there isn't a whole lot tying the collection together—but then that's part of its appeal.
The line, while very structured, doesn't have any rhyme or reason to it. Some pieces look like puffy snowballs, while others look like ethereal angels, and others still have this extraterrestrial-royalty vibe going on. Angular shapes slid between light, floating fabrics, and outfits that started with tall neckpieces and an almost skeletal framework flowed into loose fitting pants and skirts. Influences from both Star Wars and The Lord of the Rings came down the same runway leaving the entire collection open for interpretation.
Some of the plastic pieces were a little harder to love, as they sprang off shoulder, into the faces of models and hung down in tile panels on dresses; it seemed like a futuristic interpretation of a science fiction novel rather than a Parisian runway. Undoubtedly, Pugh's pieces (along with others from his previous collections) will land in a museum in a number of years, because, as dysfunctional as they are, they are truly an artistic take on fashion.
Since Pugh isn't really one to follow trends so much as he blows them out of the water and creates something entirely unique, it's a little surprising to see large hats on his runway. We'll take that as a sign that no matter how we might fight it, comically large headwear is officially a thing. (But we're not going down without a fight.) Some of his models had large turnkeys attached to their backs effectively turning them into life-sized windup dolls—and personally, we'd strap on a giant key before we would let one of those 10-gallon-hats touch our heads—but that's just us. As a ready-to-wear collection it fails pretty miserably, but as a Gareth Pugh collection it seems true to the designer and has just enough artistic experimentation to keep us guessing.