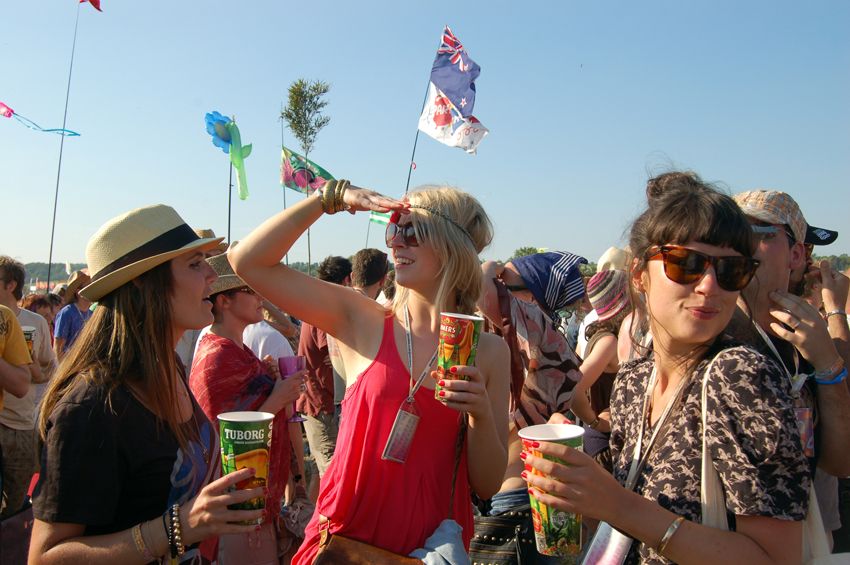 Photo Courtesy of Shutterstock
Okay, you've got your floral headband, your American Flag crop top and a playlist of the best indie bands for the drive—you are so ready to hit up that music festival and make a splash in more ways than one. But even if a weekend spent in a bikini sounds like a good idea (it's not) and running around barefoot sounds freeing (again, it's not), there are ways to dress to be stylish, comfortable and still enjoy yourself without heading home with a few broken toes and a mean sunburn. Sure you could get in your best street style, letting would-be fashion photographers take snapshots of you all weekend, or run around sans shirt and shorts drinking to your hearts content and not worry about anything else (it's all about the music, man)—but would you really want to? Personally we prefer to take the middle ground—yes, it's all about the music, but if we could groove to our favorite bands while looking good and feeling comfortable—well then that would be pretty awesome.
Bags
Some people will tell you to bring a backpack (a.k.a. hold everyone else's water bottle) or a fanny-pack (ehh...), while others suggest a hands-free crossbody bag. We're going to have to agree with the latter. We like the idea of having our hands free, but a backpack we would easily fill up—and just because the weight is distributed evenly, doesn't mean it won't get heavy. (Unless of course anyone thinks they can pull off the '90s mini backpack? No judgments.) Opt for something lightweight in a small to medium size. An adjustable length strap would be preferable to keep your bag tucked against your body so it's not bouncing around while you rock out to your favorite set.
Proenza Schouler Mandarin Red Small Fringed Lunch Bag is available at Ssense and priced at $1,175. Forest of Chintz Paros Beaded Bag is available at Runway2Street and priced at $945.
Shoes
Please don't go barefoot. You will step on something sharp (or worse…), someone will step on you, or you'll gather enough dirt to end up looking like a pauper from a horrible, new-age rendition of Oliver Twist. Bad times all around. Instead of open-toed sandals or flip flops that will leave your freshly pedicured tootsies unprotected, try a fun, closed-toe shoe or bright sneakers. Colorful slip-ons will make it easy for quick dips in the pool, keep you comfortable for all that walking you'll be doing, and are easy to take off if you do grab a seat on the lawn.
Elysewalker Los Angeles Lace Espadrilles are available at Shopbop and priced at $425. Marc by Marc Jacobs Flat Lace Up Sneakers Cute Kicks are available at Bloomingdale's and priced at $298.
Bottoms
Okay, shorts are the pretty obvious option here for the simple fact that they will keep you comfortable, looking great and won't leave you prone to accidental peep shows like a short skirt will. But if you choose the right pieces you could rock dresses, skirts or even pants. Personally we tend to stay away from jeans as the material is thick and hot—and if you get it wet look forward to a day in a skin-chaffing material. No, thank you. Opt for light, breathable fabrics—cottons, linens and silks in looser fits that will allow your skin a little room to breathe.
Missoni Cowl Neck Knit Playsuit is available at FarFetch and priced at $681.36. Red Valentino Cutout Daisy Shorts are available at Shopbop and priced at $695.
Tops
Layers can be a good idea, provided you know about the weather in the area and plan accordingly. Tissue-thin cardigans, kimonos and tops can be great for adding on extra protection from the elements, and if it gets too hot to wear, they're light enough to roll up and pack away. Cotton tees and tank tops are great for keeping cool, while a button up shirt over a thin tank (or bikini top if you must) can be worn open, tied up or buttoned if you get chilly. If it will be cool at night or even a little rainy, bring a jacket that is ultra-portable and can fold into a pouch.
Free People Rolling Stone Kimono is available at Free People and priced at $600. Balmain White & Beige Linen Warrior Print Tank Top is available at Ssense and priced at $845.
Jewelry
A couple pieces of jewelry and some bangles can really make or break an outfit so be sure to choose something that's not only stylish, but right for the occasion. With all the running around and rocking out you'll be doing chances are you'll work up a sweat—especially with that summer heat. Metals can be tarnished when coming into contact with the oils on your skin, especially those big costume pieces that (unfortunately) look awesome with your festival outfit. Instead opt for big beads or leather, and try to find a weightier piece—the last thing you need is your baubles smacking you in the face every time you jump up and down to the beat.
Free people Gold Fire Macrame Necklace is available at Free People and priced at $138. Marni Flower Detail Necklace is available at FarFetch and priced at $521.86.
Accessories
Scarves, sunglasses and even a stylish hat can help protect you from the sun and those killer rays. Wide brim hats can keep your face in the shade (no Pharrell hats, others need to see), while scarves can keep the sun off, keep you warm or even cool you down if you drench it in water. Go as fun as you want with your glasses—for the most part they won't leave your face, and unless you plan to do some serious head-banging, they should be okay.
Eric Javits Bella Floppy Hat is available at Bloomingdale's and priced at $225. Maison Margiela Pink Mykita Edition Essential Tea Shades are available at Ssense and priced at $560.
Photo Courtesy of Shutterstock
Do's & Don'ts
Do: Drink plenty of water—especially if you're going to be drinking. Passing out due to heat exhaustion or dehydration will kind of put a damper on your weekend.
Don't: Bring your favorite designer pieces. We don't care how good your Fendi Buggie looks with that dress—if it would kill you to have it lost/stolen/ruined it's better to leave it at home.
Do: Slather on the sunscreen. Whether you're going for that all-natural summer-beauty look or want to go crazy theatrical with your makeup, remember to layer on the SPF. That goes for the rest of your body too.
Don't: Wear black. Notice all the bright colors we've highlighted? Yes, partially because it's finally spring and we're welcoming that warm weather with open arms, but it's mostly because black absorbs heat—and sweaty-hot-mess is not a good look for anyone.
Do: Bring hand sanitizer. Porta potties—need we say more?