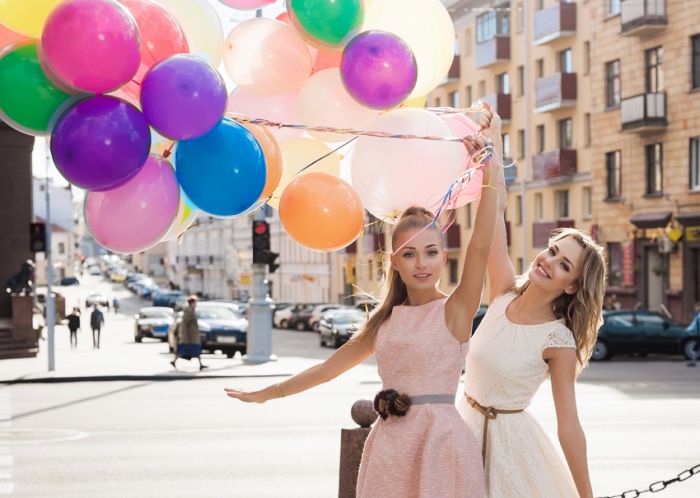 Photo Courtesy of Shutterstock
That's really the question isn't it? Pastels were all over the runway during the month of Spring/Summer 2014 fashion week—models were dressed from head to toe in the light shades and were still able to stay away from looking too—well, Eastery. Sure they looked like springtime reincarnate, but they were quite chic about it—Peeps chic, if you will. There's an art to it, and chances are if you throw on a mint top over a lavender skirt and pair it with a pink bag, disaster may strike. Mixing prints, fabrics, silhouettes and breaking up all that pastel with some other colors can be a great way to rock the trend to the maximum, without, you know, looking like you were dipped in Paz.
Photos Courtesy of Net-A-Porter
Matching
This can go good or bad depending on how it's pulled off. Hues should either be close enough in color that they complement each other or else at different ends of the spectrum like a soft pink and fuchsia paired together. Blending three different lavenders will look muddled and really—no one should own that much lavender. We love the idea of wearing a matching pastel jacket and skirt and pairing it with a black or white top to ground it. The same goes for your shoes and handbag; but no matter how you choose to mix and match, a good rule of thumb is no more than two pastel pieces at a time. Miu Miu Two-tone wool-twill jacket is available at Net-A-Porter and priced at $2,205. Alexander Wang Asymmetric cotton-piqué top is available at Net-A-Porter and priced at $675.
Photos Courtesy of Mytheresa & Farfetch
Prints
We are huge fans of pastel prints. Usually a melee of color and hues, these little gems can totally make an outfit—but overdoing it could break one just as easily. Pairing large item pastel prints (like a dress or pants) with more pastels is a no-go, even if it matches and you need it to bring out the underlying shades. If it's just a pop of print in a mini skirt or handbag feel free to pair it with some lighter hues. Using a black, white or gray can help balance out the business of a print without losing any of its visual impact. MSGM floral brocade shorts are available at Farfetch and priced at $255. Roberto Cavalli Printed Silk Wide-Leg Trousers are available at Mytheresa and priced at $1,128.
Photos Courtesy of Farfetch and Shopbop
Pale Pastels
One of the most fun ways to wear pastels is to find pieces in super-light shades. Colors that look almost white can be paired together easily and act as a neutral color to wear with everything else you own. If you prefer black and white and tend to stray away from intense colors, this might be the easiest way to break into the trend for spring as well as integrate new pieces into your current wardrobe. If you want to add more pastels to an outfit this is the easiest way to do it without going overboard. Alexander Wang Dolmain sleeve shirt is available at Farfetch and priced at $659. Rag & Bone Vespa Leather Jacket is available at Shopbop and priced at $1,595.
Photos Courtesy of Barney's & Mytheresa
Pastels as a Basic
While we like to think of pastels as that sweet dollop of whipped cream on top of our otherwise fabulous outfit, using them in their most basic form actually adds a little more oomph than you might think. Pair solid pastels with different prints like floral, geometric or leopard; or use a pale pink pant or baby blue skirt as your framework, then build upon it with layers of colors, patterns or textures. Carven Cotton-Blend Skirt is available at Mytheresa and priced at $370. Frank & Eileen Barry Shirt is available at Barney's New York and priced at $158.