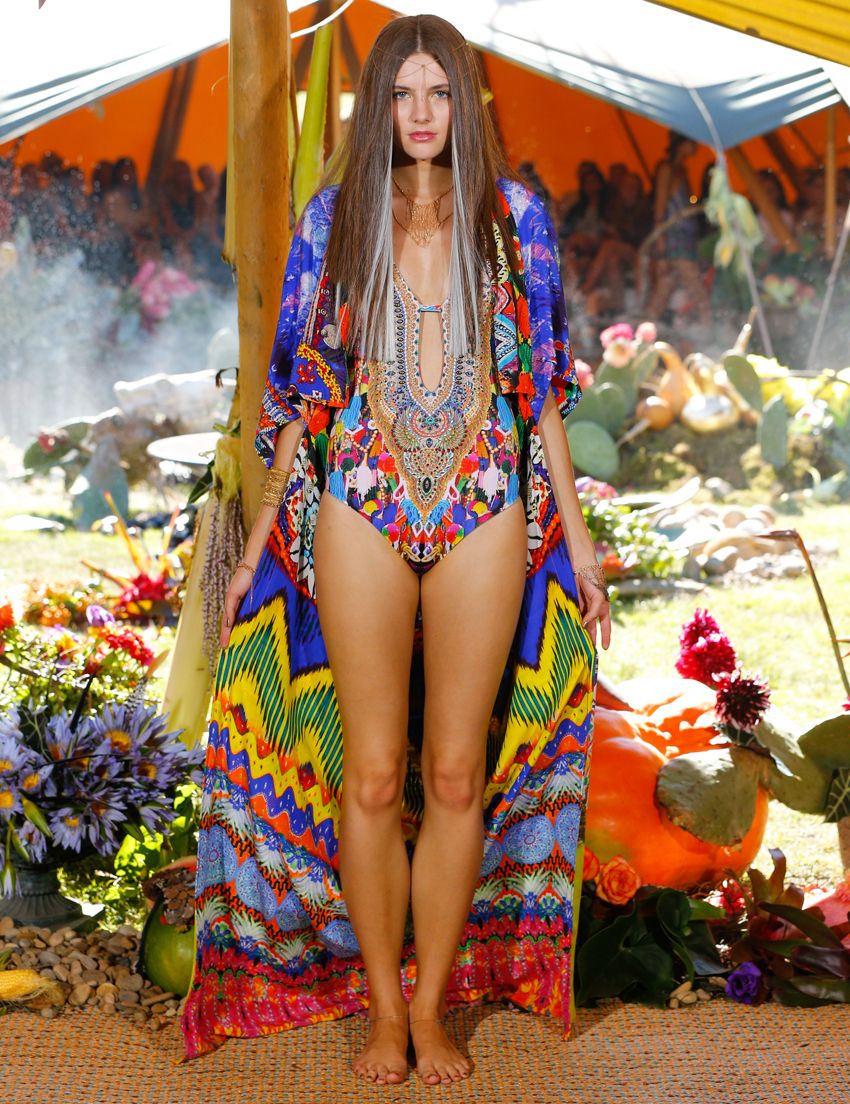 Photos Courtesy of Camilla
With spring in full swing and warm weather finally creeping in, we pretty much want to start living everyday like it's the middle of summer. And since most of the season is spent on hot, sandy beaches and trips to fabulous seaside destinations, we're going to need a wardrobe to match. For some of the brightest, most colorful, spring-ready pieces we are loving the designs at Camilla. The Sydney-based fashion line has been gracing the closets of celebrities from Beyoncé to Oprah Winfrey for ten years, and we're wondering why it took us so long to notice their amazing designs. With a line of swimwear, cover-ups and ready-to-wear that anyone would want to live their summer in, we spoke with designer and founder Camilla Franks about what her makes her line so unique, the fashion that inspires her and the meaning of personal style.
JustLuxe: Can you talk a little bit about your background and what lead you into fashion design? Was this something you always aspired to do?
Camilla Franks: I began my working life as an actress. I wasn't that good at it, and I found myself more interested in designing costumes for my characters and quite simply from that CAMILLA was born.
JL: Your designs are very specific and iconic—what is the inspiration behind your collection? Is there a feeling you are trying to convey with your designs? Who are some designers that you admire?
CF: I am inspired by the world and life and people. I travel the world and enjoy discovering new cultures and reconnecting with old favorites. Essentially through my designs I am expressing my personal experiences and inspirations. My current Fall collection 'And God Created Woman' is a culmination of my inner voices and personas. It is a very personal collection, which I hope will speak to all of the creative, complex and divine women who experience the same inner conflicts—whether that be the inner romantic, rebel or business woman. Some designers I admire include Aussie labels Romance Was Born and Sass & Bide and internationals like Dolce and Gabbana, Missoni and Pucci.
JL: You have some very intricate detailing on your pieces, some designs almost seem to focus around the details—when you start designing a piece how do you begin? Details, shape, color, etc? What are some of your favorite materials to work with?
CF: Everything begins with the print. Once I have developed the print and decided the scaling and placement, I then layer on the necklines. The true beauty of a CAMILLA piece is the detail and the painstaking art of placement printing every detail. The last stage is the intricate beading and embroidery work which is all done by hand, crystal by crystal. My signature materials are natural fibers such as silks, but recently I have also broadened the collection into knitwear, leather and modal cottons.
JL: What are your favorite pieces to create?
CF: Once again it is the prints and then the design, experimenting with new silhouettes and embellishing techniques. From the 'And God Created Woman' collection I love the fitted and fully embellished pieces, The State of Disorder Fitted Jacket, Unguarded Virtue Corset and Samsara Pencil skirt are real stand outs for me.
JL: How does your own personal style vary from your designs? Are there any trends you love or hate? Any trends you hope to improve upon?
CF: My personal style is quite similar to my collections. I love clashing together prints and wearing vibrant colors. From my personal collection, I own quite a few Native American jewelry pieces, as well as treasures picked up along my travels. I love pieces that tell a story or have a history. I don't follow trends; I tend to just buy pieces that I love, rather than buying into fads.
JL: What do you hope to convey to women through your designs and style? How do you want your pieces to be interpreted?
CF: My design philosophy is that all women have the right to look and feel beautiful no matter their age, color, size or origin. I want women to feel a sense of luxury when they put on their CAMILLA piece.
JL: You've had a successful career as a designer and have traveled and met people from all over the world; what are some of the most influential things you've seen and learned? What are some of the most important discoveries you've made through creating your own label?
CF: Through my travels I have met so many influential souls—from the villagers along the Machu Picchu trek to the textile artisans scattered through the depths of Mexico. I am so blessed to have experienced so many people from all walks of life. One of the most overriding things I have learnt from these people is their connection with Mother Nature and the land—the great provider. I try to get back to my roots through meditation and yoga, it helps balance my soul. Creating my own label I have discovered the importance of my team and my support networks. Having a great team behind me, to support me makes all the difference, they give me the confidence to keep going and create crazy/magical designs!
JL: How do you want your label to expand? Where do you want to go from this point?
CF: Core expansion plan includes the ongoing transition into new categories, a strong retail growth plan for Australia (including online) and eventually internationally. We enjoy a strong overseas market, and as we grow I would like to expand into new territories. We also have a big focus on internal efficiency and best practice and hopefully by creating a stronger platform we can continue to dream big.
Camilla is available online at Camilla and at fine department stores worldwide. Priced from $199-$1,499.