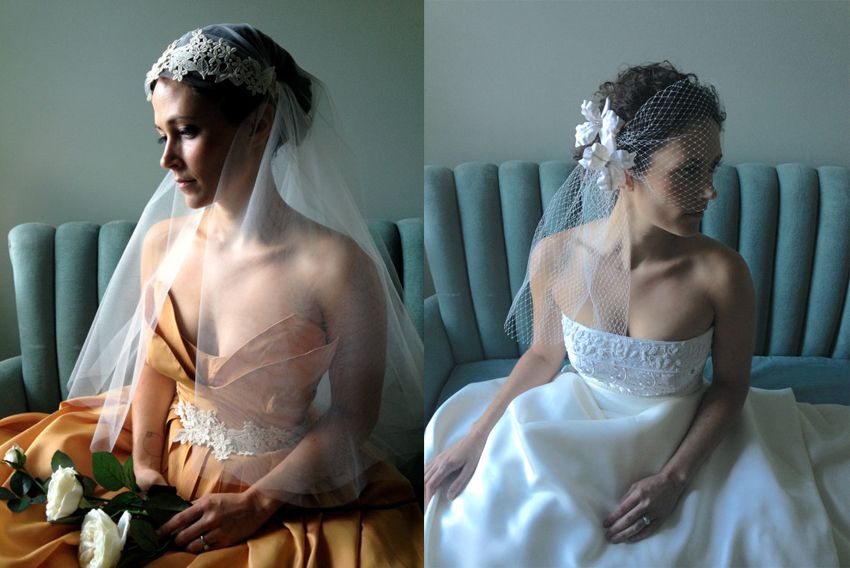 Photos Courtesy of Katie Burley
Every bride is different. There are traditional brides, modern brides, retro brides, Goth brides, Star Wars brides, hippie brides and everything in between. There's no telling what will speak to a woman when planning her luxury dream wedding and tastes can vary depending on season, location and the man she's about to wed. And while most brides will know the dress for them the moment they put it on, accessories are where they can have a little more fun. Katie Burley Millinery is an Etsy based company (where we've found some of the most creative artisans) that offers wedding veils, accessories, crowns and hats to make any bride's dream come true—except Star Wars—there are no Leia buns here.
Designer Katie Burley began as a florist, practicing millinery as an artistic hobby for 15 years, before starting her own business last year. Drawing inspiration from this floral background and passion for nature, Burley moved from San Francisco to her home in Maryland to bring her artistic vision to life. Selling to Urban Outfitter, fine boutiques and managing her own Esty shop, Burley's handmade designs showcase her history beautifully, allowing her talents to transform flowers, feathers or lace into miniature gardens for your hair.
For traditional brides, silk flowers, soft veils and small baubles are perfect for a feminine touch, while daisy-chains might be better suited for an earthy girl at heart. Lovers of vintage and retro wear will find a plethora of pieces to choose from, while even the Gothic brides will love the dark veils, headdresses and masks. Many include veils and those that don't would complement one quite well in case you feel like piling on those princess accessories on the big day. Some of our favorite pieces include the retro mini veils and the chunky floral crowns, but there's not much we wouldn't rock from this line.
While Burley's designs are intended to be the topping on the (wedding) cake, most designs are wearable long past the reception. Rose garlands scream Coachella, floral accents are perfect for al fresco summer brunches and monumental head bows are so vogue for your next Lady Gaga concert. And to make the temptation even sweeter she will work with clients to create the perfect custom designs. Actually, we take it back—maybe you can have those Princess Leia buns after all…