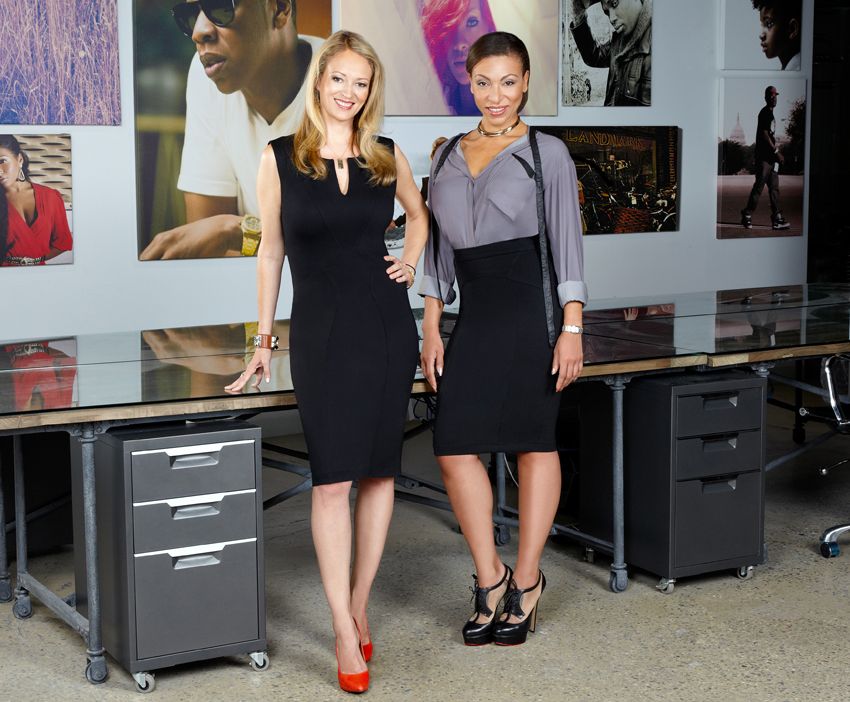 Photos Courtesy of Project Gravitas
We love shopping, we love giving to charities and we love women empowerment, so any brand that can combine all three is already a favorite in our book. A new site called Project Gravitas is doing just that with a line of little black dresses that are hoping to be the most comfortable, wearable, transitional pieces in your closet. Featuring more than 20 dresses (most are black) and a few accessories, the brand prides itself on perfecting the LBD that can take women from a board meeting to cocktails with the girls. Every month they choose new power-women (aptly dubbed Gravitas Women) to showcase, and donate a portion of the proceeds to the charity of the women's choice, which can include anything from scholarship programs to human trafficking prevention.
This month features Jennifer Justice and Jana Fleishman, EVP's of Strategic Marketing & Business Development at Roc Nation, Jay Z's entertainment company. At Gravitas, they are raising money for the Shawn Carter Scholarship Foundation, which focuses on financial aid for those that are often looked over for other scholarships—single mothers, those with low GPA's or those who have been previously incarcerated. Both women agree that though their title is the same, they bring different backgrounds to the table allowing them to excel where others may flounder. "None of us got here because somebody said 'You can do it,'" Justice told Gravitas. "Actually, they said the opposite: 'You'll never make it.' So, we've all had to persevere."
In July, 10 percent of the purchase price of their favorite dress, the Audrey, will be given to the Shawn Carter Foundation as a way for women to fill their closets and feel good about their purchases. "Because of Soul Cycle I lost a bunch of weight," Fleishman explained. "Project Gravitas dresses are amazing because they show off my new figure. They slim the waist and hug in the right way. Every single one I tried on just works." What is probably our favorite selling point about the little black dresses is the built-in shapewear that works to hold everything together without restricting, bunching up or moving all around.
And while we agree that we love the ultra-flattering dresses, we can appreciate it even more knowing our money is also helping a great cause. "I am the product of the type of environment the Shawn Carter Scholarship Foundation reaches," Cornell Law graduate Justice told Gravitas. "I come from a single, teenage, welfare mother. She didn't graduate from high school. So I didn't have anybody to usher me through school. The Shawn Carter Scholarship Foundation has two initiatives: to make sure the underserved understand that college is a possibility and to keep them in college."
In addition to all this girl-power philanthropy, the women at Roc Nation are offering customers a chance to win two VIP passes to the Made in America music festival. Held in Los Angeles, the two-day event will feature artists like John Mayer, Imagine Dragons and Weezer, and will be available to win starting July 18th on Project Gravitas.