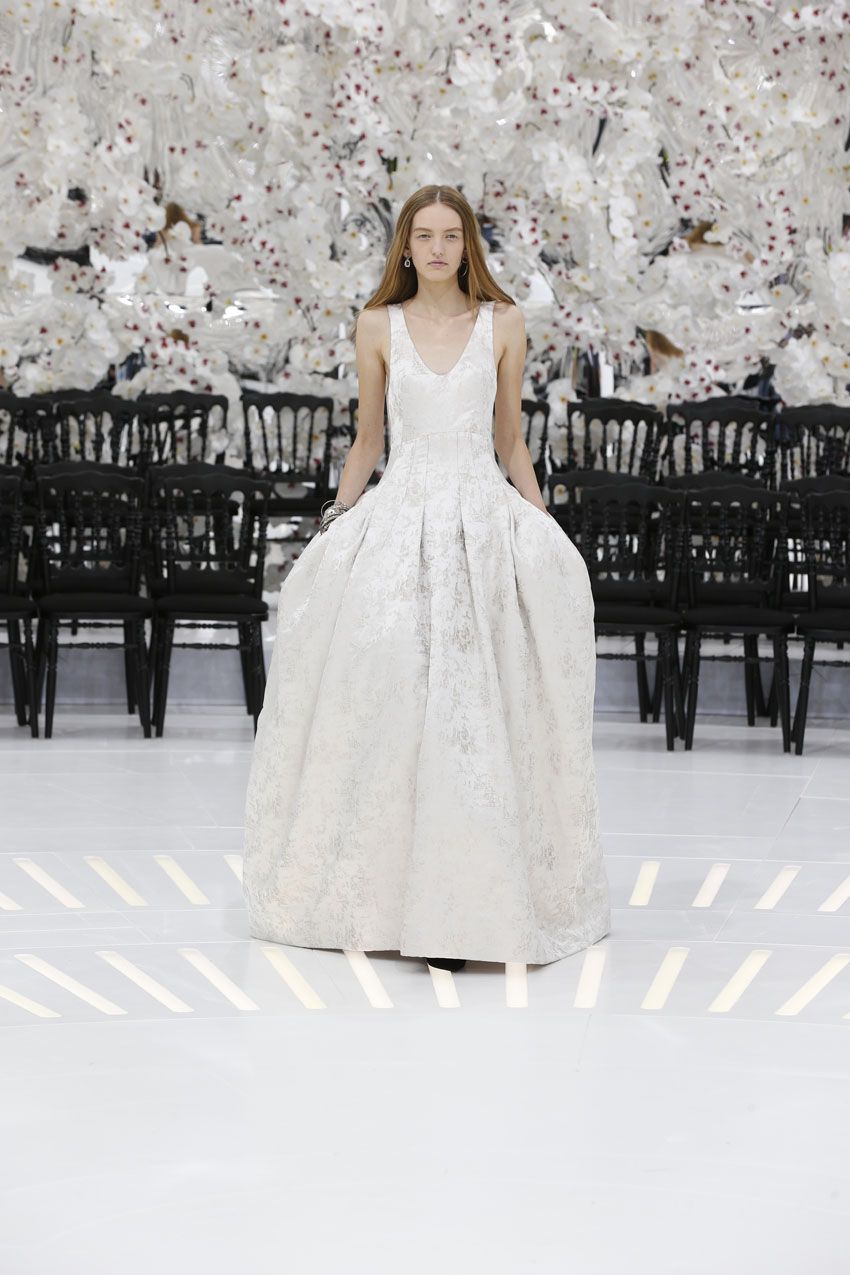 Photos Courtesy of Dior
Armed with white and pale shades delicately laced with floral designs, the Dior Haute Couture Fall 2014 collection seemed like something out of a historical dream—with a few oddities thrown in for good measure. Raf Simons' designs always have a distinctly feminine appeal, but lately things are becoming more ethereal, with the designer looking back through the centuries to find the next muse for his collection. Capturing elements from Marie Antoinette gowns, Top Gun-esque flight suits and '60s prom dresses make for an eclectic lineup. And while it fails to flow as a collection, individual pieces stand out making it worthy of our closets.
Set at the Rodin Museum, seemingly appropriate for a collection that draws inspiration from the past, the collection displayed a line of puff dresses with excess volume on the side, befitting an 18th century royal court. "This collection is very historically inspired," Simons told WWD in a preview backstage. "It felt like a challenge to look further back in history and see how I could modernize certain aesthetics. That is my constant drive, to make it younger and make it relevant to women in their lives today. Always, to be modern."
And while it might not look modern at first glance, its understated grandeur keeps it from looking overtly theatrical; something Simon's peers can have a hard time managing when relying on the past for inspiration. While not distinctly subtle, women who are looking for a more dramatic entrance would find their desires sated in this collection. Moving away from Marie Antoinette, Simons finds himself in a strange area with flight suits that seem better suited to a moon walk than a runway. Although not part of a cohesive collection, we applaud his attempts at making couture a more every-day, wearable garment—although these puffy flight suits are not the way to do it.
His Edwardian coats played on two time periods by also channeling the funky decade of '60s rock'n'roll—remember The Beatles' Sgt. Pepper album? Only these pieces were delicate and feminine with a lot less flash. They almost looked like they were fished out of our ultra-chic grandmother's wardrobe—definitely vintage and undeniably modem. After a few floral '60s dresses (that were popular in the '90s), came a line of fluffy, tea-length dresses—one of which I swore I saw my mother wearing in her prom photo.
Simons may have shown off couture gowns that would make even a royal bride jealous, but what stood out in his collection was the wearability of each piece. Flight suits aside, jackets could be easily incorporated into an everyday wardrobe, while short party dresses could be worn at cocktail events or weddings—even the floral separates could find a permanent place in your closet. Oh, and did we mention the pointy, low-bootie shoes? We'll be grabbing a pair of those in every color.