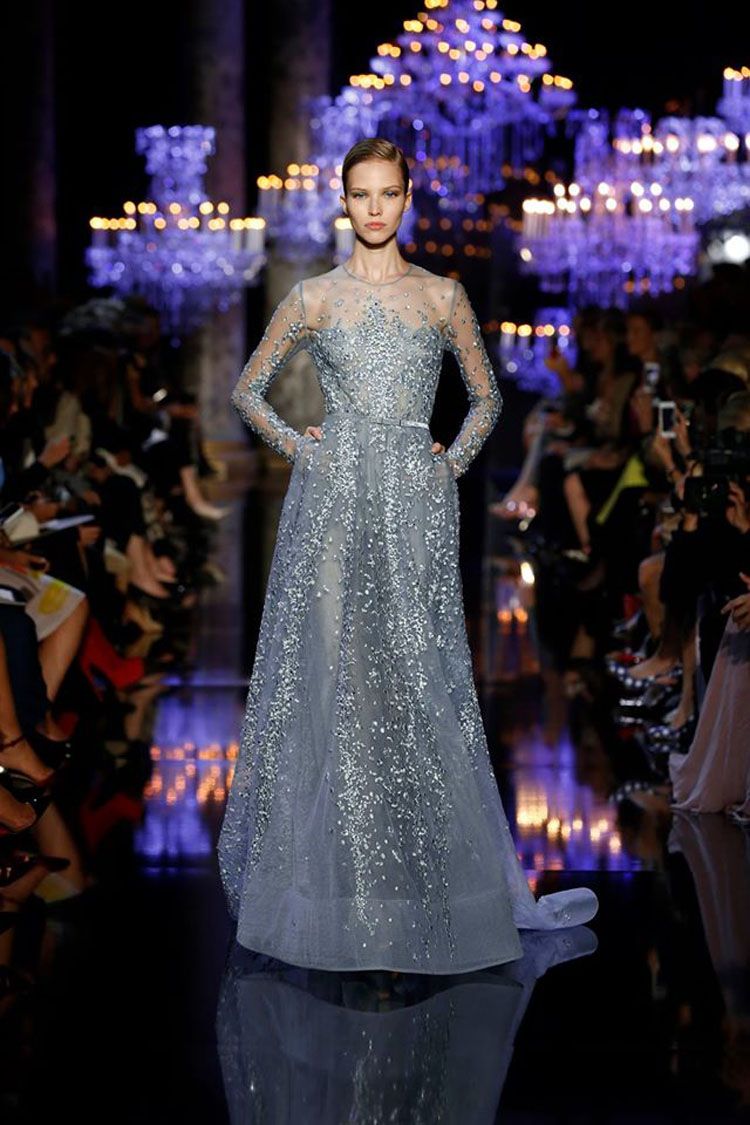 Photos Courtesy of Elie Saab via Facebook
To say Elie Saab's collections are made for the princesses of our imaginations is almost blatantly obvious at this point—so how else do you describe dreamy perfection? Elie Saab's Couture Fall/Winter 2014 collection is caught somewhere between the darkness and romance of the Phantom of the Opera, and the glittering coldness of Frozen, and is nothing if not an opulent fairy tale. On a stage filled with candelabras cast against a backdrop of black with stone pillars rising up from the gloom, this collection feels heavier and more gothic than previous presentations. This season instead of focusing on lace patterns or flowing fabrics, Saab concentrated on excessive embellishments, favoring the Tahitian pearls that could be found on almost every gown.
The collection moved through the color scale like Sleeping Beauty's ball gown, changing from icy blue to rose pinks and back again with the lighted candelabras reflecting the hue of the dresses on the runway. Playing with ombré shading that ranged from subtle blue tones to dramatic pinks and blues, allowed the collection to seem modern despite its princess-cut silhouettes and puffy skirts. Shading was also accomplished through beading, where pearls and crystals were scattered sporadically at the ends of the gown and came into a concentrated glittering mass at the waist.
Daywear was left out the collection entirely (which is fine—that's not why we enjoy Elie Saab) and the focus was heavy on eveningwear and red-carpet designs—maybe a bridal gown or two if you're willing to be lax on color. The gowns embroidered with cabochons, pearls, sequins and crystals flashed dangerously on silks, muslin and fur making for a collection that was rich and sumptuous while still maintaining its dark, mysterious undertones.
While models have been known to fumble every year on Saab's runway (who wouldn't with all those pearls kicking around your stilettos), the women in this show moved gracefully and with seemingly greater ease than in past seasons—there was only one small stumble (she didn't even touch the ground!). The gowns were clearly heavy and flowed around their feet still making it difficult to walk, but no one hit the floor this season—and that's pretty much a win for any Saab model.