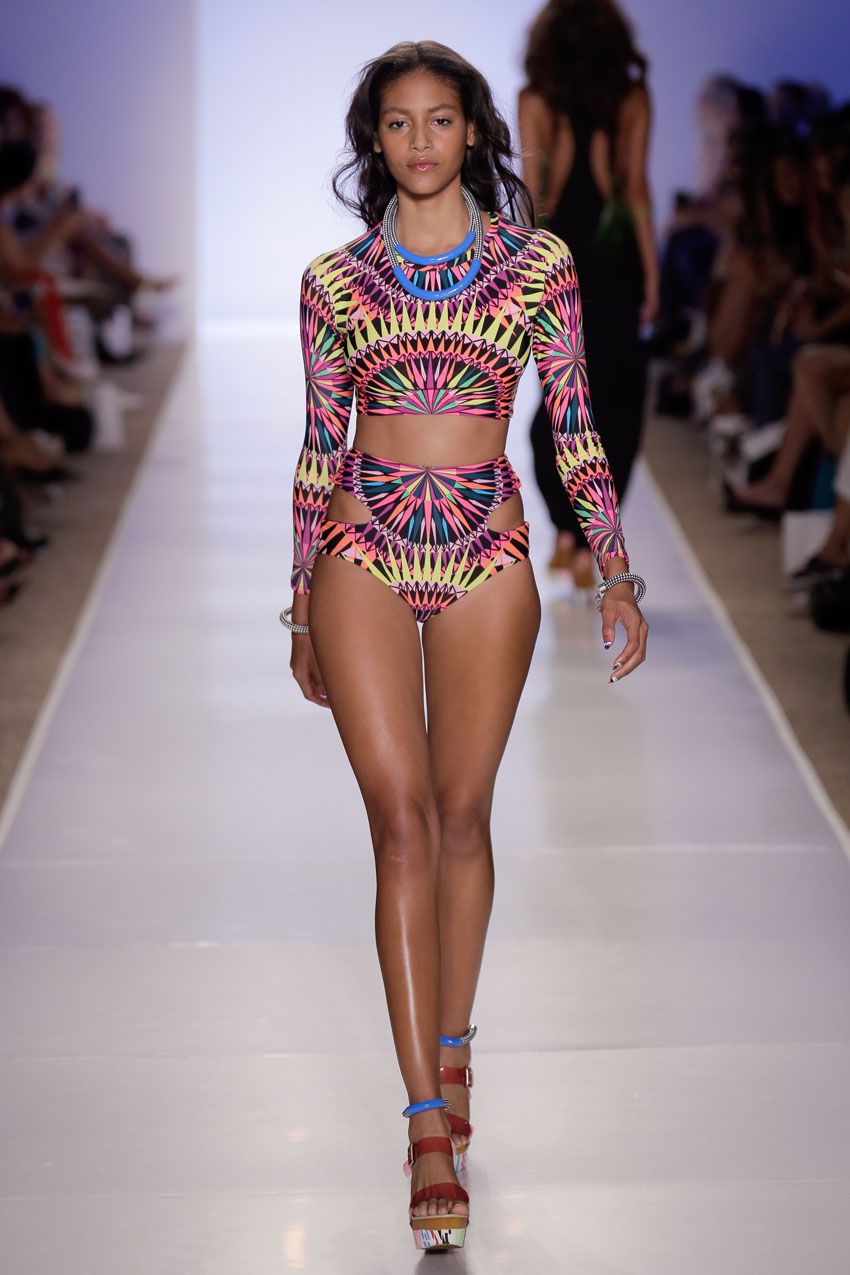 Photos Courtesy of Mara Hoffmam
Despite Miami Swim Week causing us to swear off carbs forever and start planning our next juice cleanse in the middle of a runway show, it can be pretty fun. Mara Hoffman's Swim Resort 2015 collection, had us thinking about running laps, but only so we could look this good in her phenomenal swimwear. Playing off some of the black and white geometric abstracts of last season, this collection used the neutral shades as accents allowing the iconic Mara Hoffman colors to really pop. Bikinis, one-pieces, dresses, cover-ups and jumpsuits all came down the runway as well as on-trend rash guards, monokinis and bodysuits.
This collection is a smooth transition from Hoffman's Fall 2014 ready-to-wear which featured a lineup almost entirely in black and white—a drastic statement for this designer. For Resort 2015 a few pieces replicated the fall color palette, using a black and white print as an accent piece between neon blues, lime greens and eye-catching corals. As this was a summer collection we expected a large dose of color, and models were decked out from head to toe—from multi-layered necklaces, to bright anklets and stripes on their platform wedges.
The prints in this collection were anything but lacking; models came down the runway in tie-dye, leopard, kaleidoscope, abstract, geometric and tribal patterns making the collection seem like it was lost in Hoffman's world of style and color. "We design all of our own prints—we don't buy prints," Hoffman told Popsugar backstage before her show. "We find a place or an inspiration point—in this case, a recent trip to Guatemala, which was a country rich with beautiful people and textiles and vibrant landscapes—and then it goes through the Mara Hoffman filter a few times, and then it comes out. There's magic in between." Some of this Guatemalan inspiration was manifested through parrot-printed bikinis and palm fronds in every models' hair.
The only thing we don't like about this collection is that we can't get it until after the season ends. Hoffman always gets it right, creating a line that epitomizes summer and gives us dreams of tropical vacations and exotic poolside parties. We can content ourselves with her current collections (which to be fair, are just as colorful and eccentric), and now we have a great collection to look forward to when we're in the middle of another chilly winter. Besides, this swimwear is a perfect excuse to jet away to Tahiti during the holidays.