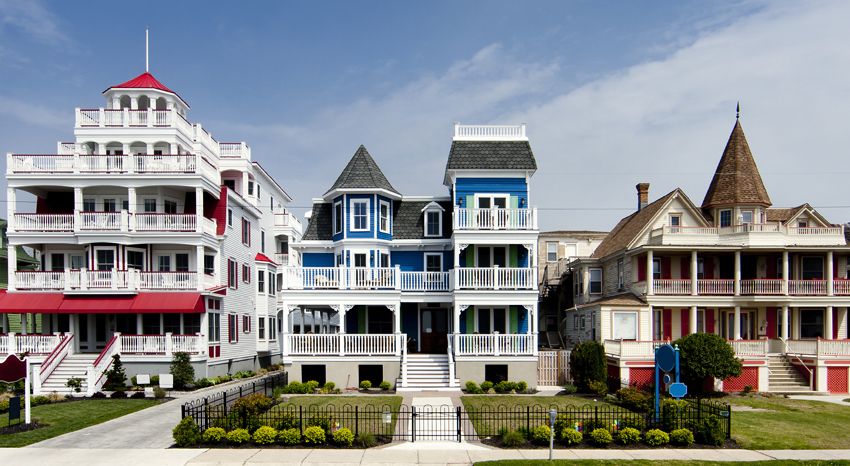 Photo Courtesy of Shutterstock
If you are one of the 50,000 lucky visitors who head to Cape May, New Jersey for a few days at the beach, it's impossible to not admire the fine architecture and interesting homes that line the streets. Said to be one of the oldest vacation destinations in the United States, the city of Cape May, which lies on the southernmost tip of New Jersey where the Delaware Bay meets the Atlantic Ocean, is in its entirety a National Historic Landmark precisely due to this collection of colorful and quirky Victorian homes that date back to the late 1800s.
So what does this have to do with fashion you might ask? Well, if you really start checking out the quirky ensembles of beachgoers while stealthily admiring the details of the pink bed-and-breakfasts, you may begin to realize that the two have a lot in common. Those who appreciate a well decorated home, embellished with beachside eccentricities and bright colors, also love unique clothing that can't be found elsewhere. If you're looking for new summer style, you can use the same home whimsicalities you look for when you're roaming the neighborhood and scoping out the newest décor ideas.
Photo Credit: Jenna Intersimone
Miu Miu Cotton-blend printed dress,$2,055 at Mytheresa; Alexander Wang Diego Rockie Grain Leather Bucket Bag, $1,055 at Lane Crawford; Mary Katrantzou Lisa Lucky Strike Heels, $695 at Mary Katrantzou; Cedric Charlier Print Pullover Sweatshirt, $680 at FarFetch; House Of Holland Exclusive Starburst Disco Dress, €400 at My Beautiful Dressing.
A colorful Victorian is equal to a vibrant dress.
Back at home, your neighborhood is probably filled by whites, grays and yellows; neutral colors that are fine fits for a classic neighborhood. But beach boroughs don't need to follow rules or adhere to rigid community standards. Instead, owners of these luxury vacation homes choose to stand out by painting in colors such as turquoise and magenta, which give their homes the personalities that match their eccentric namesakes and histories.
Likewise, you can get luxurious with your summer wardrobe picks too. Instead of opting for conservative colors, think outside the box and invest in brights that were made for summer fun such as cobalt or tangerine. Summer is the the perfect time to show your true colors and let your personality shine through using bright dresses, patterned shorts and mixing loud prints to stand out on those boardwalk weekends.
"I am attracted to rooms that have interesting and bright color schemes, such as turquoise walls with coral accents," said Megan Holt, an employee at Hermès. "I like to try to translate those ideas into style by wearing coral jewelry with a turquoise top."
Photo Courtesy of Shutterstock
Charlotte Olympia Purple & Pink Studded Kitty Flats, $745 at Ssense; Miu Miu Round-Frame Glitter Sunglasses $339 at Mytheresa; Balenciaga Gold-toned cuff, $425 at Mytheresa; Shourouk Cobra Earrings, $675 at Shopbop; Mattijs Graficum Weikei Butterfly Pendant $595 at Paire.
A satisfied garden is akin to a brimming outfit.
When you see homes worth rolling the windows down for, are they white Colonials with bushes lining the walkway or are they periwinkle mansions with gardens packed full of flowers, bushes, gnomes, wind chimes and animals? Instead of omitting funky accessories in your summer style, pile quirky bracelets, flashy wedges and a designer bag onto your new vibrant dress. Pack the day's outfit full of your favorite matching pieces and don't bother being shy or modest—this is what summer is for!
Diana Hoffman, fashion e-commerce merchandiser, said, "The right accessories can breathe new life into an ensemble. When I get a compliment on any outfit, my response is always the same—'I'm only as good as my accessories.'"
Photo Credit: Jenna Intersimone
Sandra Weil Riehl Dress, $691 at Runway2Street; Burce Bekrek Lattice Back Crepe Jacket, $2,133 at Runway2Street; Valentino Bead-Embellished Dress with Feathers, $14,800 at Mytheresa; Yazbukey Backgammon Plexi Clutch, $920 at Paire; Thakoon Wrap-Effect Mini Dress, $1,370 at Moda Operandi.
An offbeat home is kindred to an uncommon outfit.
Cape May communities are not golf-court colonies. Instead, residents attempt to differentiate themselves from their friends, which make for colorful and customized homes that will never be mistaken for a neighbor's. When choosing the right ensembles, don't worship the season's trends, but instead, get creative and wear an outfit that's totally original. No one stops another on the boardwalk to compliment a piece that they see everyday; they stop to chat about something exciting that they have yet to see in a magazine or storefront.
Hoffman shares her own flair that she brings to her outfits: "As a woman who appreciates a fine vintage piece, I look for unusual pins to wear as pendants."
Photo Courtesy of Shutterstock
Alice + Olivia Dani Cropped Box Jacket with Seamed Sleeves, $484 at Neiman Marcus; Valentino Crepe Couture Drape Pleat Wrap Dress, $2,710 at Lane Crawford; 3.1 Phillip Lim Bead Collar Dress, $745 at Lane Crawford; 3.1 Phillip Lim Black Ankle Chain Berlin Heels, $495 at Ssense; Saint Laurent Wool-Srepe Mini Dress $2,490 at Mytheresa.
A well-structured house is comparable to finely-tailored pieces.
Million-dollar beach homes never have a brick out of place. Instead, every square foot of these classic Victorians are customized and no corner is overlooked. It is these details that separate the fair from the fantastic on the tree-lined, neighborhood streets. Accessories and quality tailored garments, similar to the details that are the essence of a home, are not to be forgotten either. Invest in posh, grandiose pieces in shoes, jewelry and basics—these are the cornerstones of both house and wardrobe. Substandard pieces, similar to a poorly constructed roof, will slowly fall apart and those with taste and style will instantly notice its mishaps.
Photo Credit: Jenna Intersimone
Pinghe Hilaire Drop Pocket Crepe Dress, $1,566 at Runway2Street; THEP. Structured Brocade Mini Skirt, $581 at Runway2Street; Rosie Assoulin Cape Shirt Dress, $1,895 at FarFetch; Stella McCartney Crepe Fringed Dress, $ 4,775 at Mytheresa; Rosie Assoulin M'O Exclusive Silk-Faille Bow-Back Top, $3,195 at Moda Operandi.
A misshapen home is similar to an angled dress.
Building space in desired communities is limited, which is why architects get artsy with their angles, making homes fit and make sense in ways that becomes both beautiful and distinguished. As a woman with style, get creative with your angles just like the best architects. Instead of housing a closet full of empire-waist dresses, try a collection of wrap dresses, cropped shirts, maxi skirts, high-neck dresses and A-lines. In the ever-changing fashion community, there is no reason to be limited to a one-dimensional wardrobe.
However, Holt also brings up another rule that can't be ignored. "Don't try to be trendy in angles and in colors at the same time," she said. "If you want to wear something very 'now' such as crop tops or high-waisted shorts, you should stick with classic colors, but if you wear a simple pencil skirt you can branch out in a color that's on-trend."