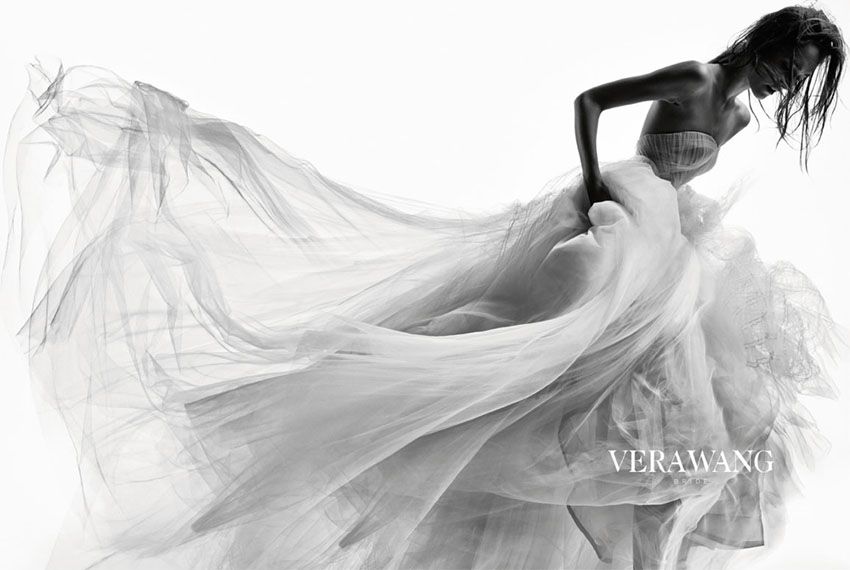 Photos Courtesy of Vera Wang
Bridal season may be over but that doesn't mean there aren't a few fall brides out there. Releasing her Fall 2014 campaign, Vera Wang captured the untraditional bride in a pretty unique way, with model Josephine Le Tutour looking wild and unkempt in her white gown. Lensed by Patrick Demarchelier and styled by Julia Von Beohm, the images were released earlier this week on Wang's brand blog, Vera Unveiled, and included a release of ready-to-wear campaign images as well as eyewear—but her bridal releases were what caught our eye. Shot in black and white, the unexpected images leave Le Tutour rumpled, bare-faced and with a mess full of hair that any bride would refuse to be caught dead with—and she makes it work.
Wang's campaign comes immediately off the back of a unique bridal season that offered some of the most unexpected dresses, and included everything from ombré to pantsuits, showcasing the movement away from traditional ideals when it comes to those dreamlike princess gowns. Even celebrities like Olivia Palermo got in on the trend, wearing what could only be described as a large tulle skirt over a pair of shorts. Yes, wedding shorts. While Wang's imagery doesn't stray so far into unconventional territory, we do like the shakeup. Besides, women should be able to wear whatever they want on their big day—even if it includes bridal shorts.