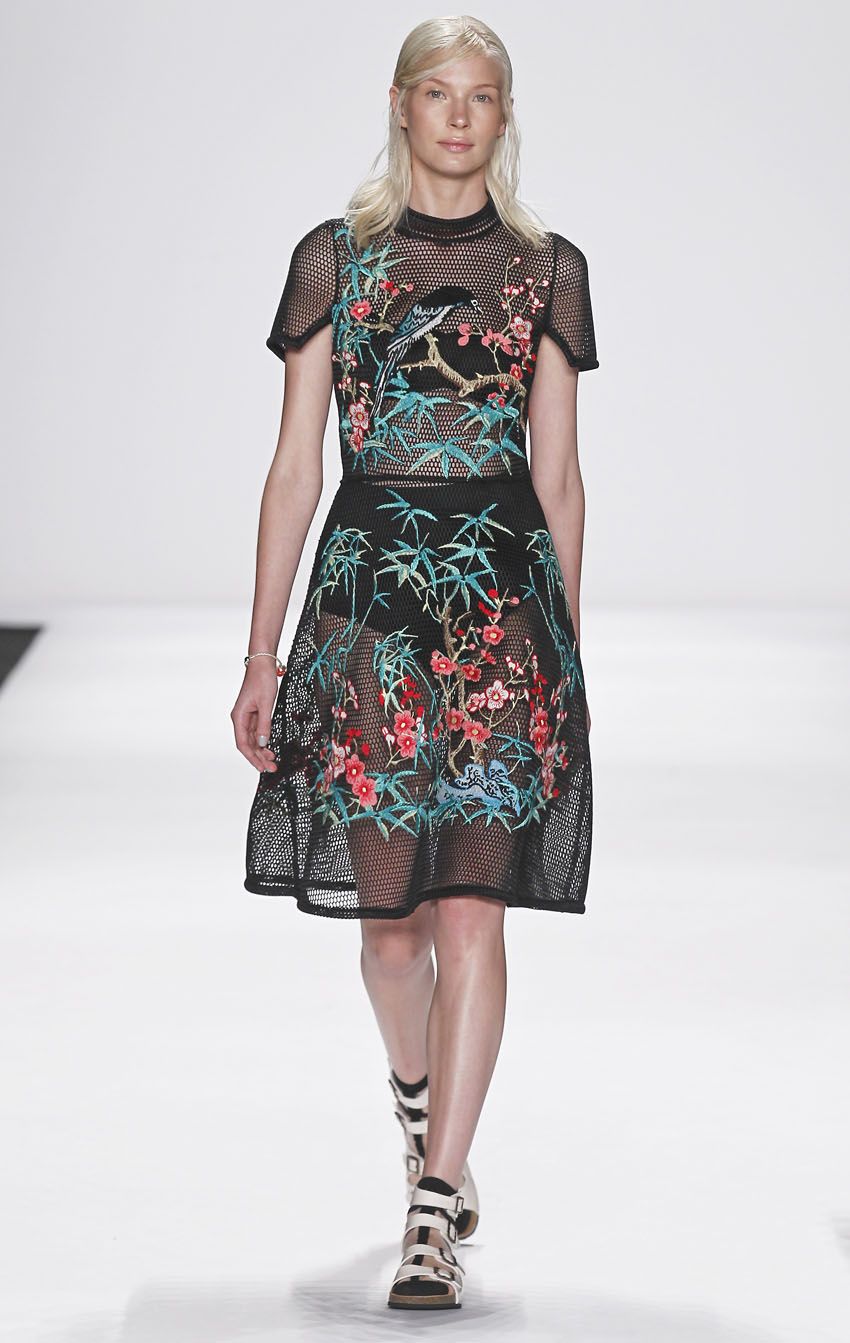 Photo Credit: Dan Lecca
Rarely does a collection come along that totally nails it, but Vivienne Tam did exactly that during her Spring 2015 runway show yesterday. Models walked the catwalk in feminine silhouettes, bright colors and Asian prints that were both classic and modern. The repetition of last spring's black and white palette is becoming more pronounced as the week progresses, and Tam has no problem playing with the hues here, bringing them together with her embroidered touches and skilled use of fabric. Without hesitation we would wear almost everything in this collection and would be left wanting more.
Inspired by the decorative treasures of the Ming and Qing dynasties that are housed in the Forbidden Palace, Tam played on their underlying themes of nature, landscapes and scenery in her newest collection. Mimicking the original materials of lacquer, pearl inlays and porcelain, she uses embroidery, prints, vinyl and laser-cut fabrics to bring this historic imagery to the runway. The result of this is a collection that draws the eye with popping colors, one-of-a-kind prints and an attention to detail that even Valentino would love.
While the collection was heavy in dresses and skirts, Tam did mix it up with bright shorts, ankle-grazing pants and loose fitting culottes (another trend we're seeing pop up again this season). These more masculine looks were paired with loose-cut tops or snug, cutout crop tops (not time to retire those yet) and finished with socks and a unique take on Birkenstocks that have straps going up the ankles. (We admit we're not fans of Birkenstocks, but these we would buy.) The updated flats were paired with every look, from edgy, summer styles to evening gowns—there was no denying that it was odd, but it worked.
At first glance these pieces are easy to wear, but when taking a closer look the appliqués, delicate embroidery and shifting layers would make this better suited for a day when you need to impress rather than a lunchtime brunch with the gal-pals—unless of course you're looking to showoff your new Vivienne Tam purchase—then by all means wear it for brunch, shopping, a quick Starbucks run or out for a night of bowling. Because even though you might be overdressed to pick up the kids from school, you would look so good while doing it.