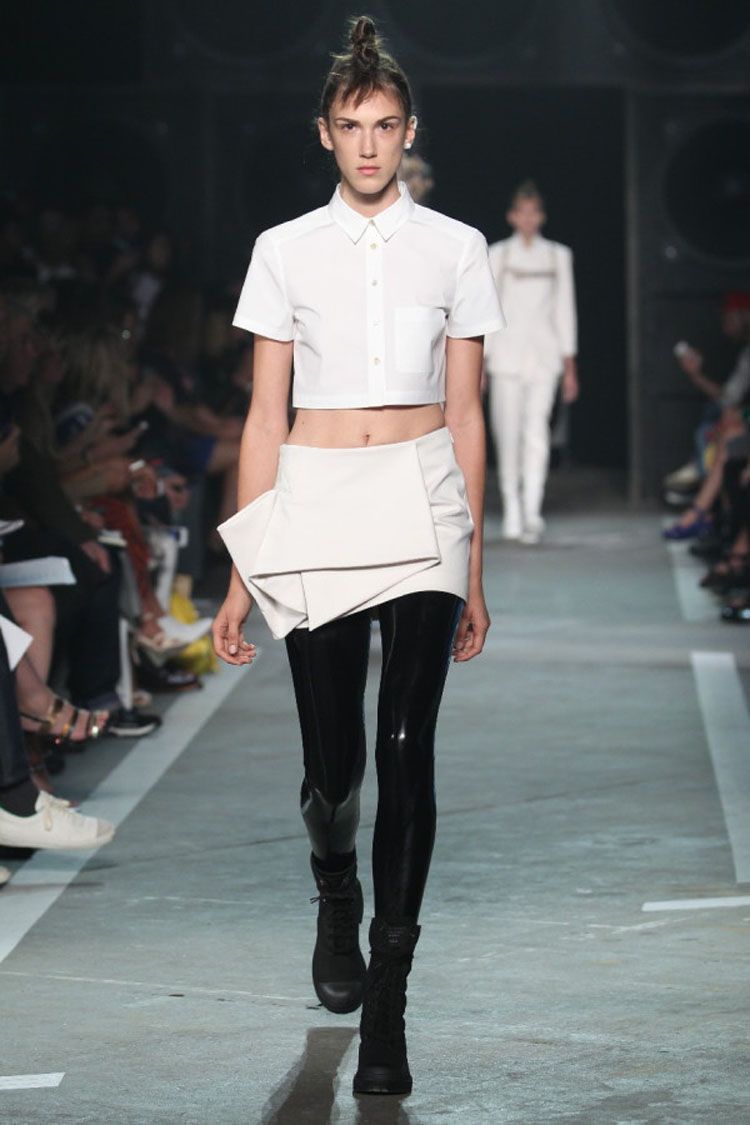 Photos Courtesy of Marc by Marc Jacobs
Working in the fashion industry, people automatically assume you're going to love the strangest, out-of-place styles that most people just don't get—and generally, that's true. We're willing to acknowledge the Birkenstock, attempt culottes and wholly embrace cocoon coats—but the Marc By Marc Jacobs Spring 2015 collection was another monster altogether. Yesterday's runway show had big, '50s polka dots, '90s-style, extreme crop tops and suits that looked more hazmat-ready than New York Fashion Week-ready, but it all came together with a punk-rock, grungy spin that we're sure the super-fashion set is going to love.
As last season marked the first collection from the new designers Katie Hillier and Luella Bartley, who now sit as creative director and designer director at Marc by Marc Jacobs, we expected the line to take on a new life of its own. What we didn't expect was the drastic change from a brand we knew to a brand that began creating waves within the industry—and everyone was wondering—can they do it again? Last season was filled with skater influences, while this season turned to the rockers and ravers of London for inspiration. Needless to say it was a success—but whether or not it will trump that of its predecessor remains to be seen. Undoubtedly these pieces will be snatched up quickly by the fashion-set, those who are bloggers, in the business or are hoping to get snapped by street-style photographers, are going to want this collection now.
But where does that leave everyone else? Thankfully the punk-inspired collection (complete with fauxhawk topknots) contains pieces that can be styled individually—for the most feminine fashion lovers to those who look like they just came from a gig. At a glance the collection looks cold, edgy and made for early 20-somethings who are trying to make a statement that says they're way too badass to care, but start deconstructing those heavily layered outfits and you're left with on-trend culottes, sweet crop jackets or modern midi-dresses. One of its biggest selling points it that it's a collection that can be picked and pulled from to suit any closet.
While we might be split on some of the looks (those Two-Face dresses in particular), the one thing almost everyone will be able to agree on is the insane perfection of the bags. And as Hillier used to be an accessories consultant to Marc Jacobs, it's no wonder they were so on-point with these accessories. There were trendy backpacks, circular leather clutches and the pièce de résistance—an enamel, hexagon-shaped, candy-colored bag that will fly off the shelves when it finally hit stores. We're already planning our entire spring wardrobe around this baby—we're calling it now, this is the "it" bag of 2015. And right now, spring cannot come fast enough.