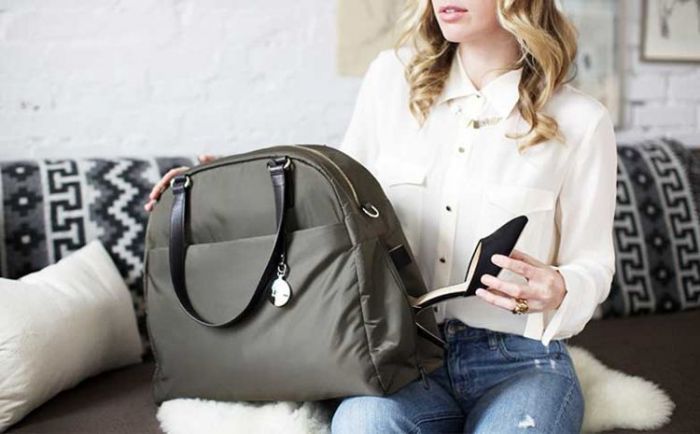 Photo Courtesy of Lo & Sons
Every time fashion lovers travel for the holidays they have to do some seriously heavy editing. And if you can narrow down your selection to only a few heels and a couple key outfits (we've got some tips and tricks for packing if you run into trouble) then congrats, you're past the hardest part. But there are so many things that can make your trip easier, fun and dare we say—more stylish. From do-all bags to bright passport covers we've curated a list of totally necessary-ish accessories to make your trip fabulous. We can't guarantee you'll have a great time at your family dinner, but at least you'll look chic at the airport.
Photo Courtesy of Lo & Sons
Carry-On
Have you ever gotten everything into a carry-on just to realize that on your return trip you had about 50 new things to pack and no space to put it all? During the holidays when you'll be bringing back quite a few presents (if you've been good, of course) cramming everything into a carry-on is usually no longer an option. So feel free to check a bag (leaving some space of course), and bring on a decent sized bag like the Lo & Sons O.G. With over 10 compartments and pockets, this bag is an organizer's dream. Carry your passport inside the inner pocket's inner pocket (yes, really) for safekeeping, keep keys clipped on a hidden chain and keep you laptop and notebook separate with their own slots. Made with a fine, lightweight nylon in a variety of colors, this bag holds more than you can imagine (remember Mary Poppins' carpet bag?) and is perfect for packing an extra outfit just in case the airline loses your luggage. The O.G. is available at Lo & Sons and is priced at $295.
Photo Courtesy of Elaine Turner
Passport Cover
For frequent international travelers, a passport cover is practically a must have. To keep your passport in the best working condition it pays to keep it covered, secure and free from bends and tears. There's nothing worse than getting to customs and having to scan your passport repeatedly because you can't seem to get it to lay flat (trust me I speak from experience). Use a cover to hold a passport, airline ticket, luggage receipts and any other small documents that you need immediately at departures and arrivals. Elaine Turner offers a chic and simple passport cover in a buttery soft pebbled leather with bright fabric interior. It's simple, easy and ads a little fun to an otherwise boring travel necessity. Elaine Turner passport covers are available online and priced at $68.
Photo Courtesy of T & N
Foldable Flats
Airplanes can be—let's go with uncomfortable—places where people feel that they can just relax and make their seat their home, especially on long haul flights. And whether you're seated in business, first class or (God forbid) coach, people have a tendency to get a little too friendly with the people around them. They go barefoot, they do quick changes—basically all manner of decency has the tendency to go out the window during hour five of your flight to Europe. Don't be one of these people. If you want to get out of your boots and into something comfortable bring along a pair of foldable flats, like the soft leather designs at T & N. It gives you the opportunity to stay comfortable, fashionable and allows you to squeeze one more pair of shoes into your vacation ensemble. Plus these flats come in holiday-ready shades like cracked silver, patent python or glittering gold. T & N is available online and priced from $150-$199.
Photo Courtesy of Handbag Butler via Facebook
Charging Purse
I can't sleep on most flights—I need to be entertained with music, books, games—which can drain my battery pretty quickly, so chargers can mean the difference between watching Scandal reruns or staring out the window for five hours. Mighty Purse is a charging pouch, a sleek little clutch that can charge your devices and store them all at the same time—and we love anything that can pull double duty when we're traveling. With a variety of styles and sizes, Mighty Purse can charge a device two to four times before it needs to be recharged again with an easy little USB cable, all while saving you the hassle of bringing cables, adaptors, and chargers. Mighty Purse is available at Handbag Butler and priced from $85-$170.
Photo Courtesy of SCOTTeVEST
Traveling Coats
Most travelers will be taking along a jacket for the holidays (unless you're heading south in which case we envy you) so it's best to make the most of it. Obviously we don't suggest you cram your pockets with as many odds and ends as they can carry—unless of course it's a SCOTTeVEST. Their vest, coats and jackets have anywhere from three to 42 pockets that are specifically built for headphones, iPads, glasses, water bottles, cameras, etcetera. and are Bluetooth-ready for your devices all without adding extra bulk. Seriously this thing is like a traveling fortress. The brand makes deigns for both men and women, so ladies, you might not even need an extra purse. But be sure to take this carry-on coat off at security—don't say we didn't warn you. SCOTTeVEST coats are available online and are priced from $145-$200.